Uttar Pradesh
Uttar Pradesh is a state in north India with Lucknow as its administrative capital. It is the most populous state in India.
This region boasts immense artistic wealth. Many famous musicians come from there, including Hari Prasad Chaurasia and Ravi Shankar, who did much to introduce Western audiences to Indian music. Kathak, one of India's classical dances, originated in Uttar Pradesh.
The Taj Mahal, the most frequented of all Indian monuments, is also in Uttar Pradesh. So are Varanasi, the spiritual capital of India, and Mathura, the mythical birthplace of the god Krishna.
---
Agra | Fatehpur Sikri | Mathura | Govardhan | Vrindavan | Barsana | Allahabad | Varanasi | Lucknow | Ayodhya
---
[box color="white" align="left"]
Agra
From 1556 to 1658, Agra was the capital of the Mughal Empire. Today it is best known for the Taj Mahal, one of the world's most famous monuments and now a kind of emblem of India. With no fewer than 10,000 visits per day, the Taj Mahal seems to enjoy a prestige like no other place in India, probably because of the romantic legend of its origins… MORE +
[/box]
[box color="white" align="left"]
Fatehpur Sikri
This "City of Victory" 50km south of the Taj Mahal is a remarkable architectural complex. Especially notable is the huge Jama Masjid mosque. Apparently it was once as holy as the one in Mecca…
[/box]
[box color="white" align="left"]
Mathura
Stretched out along the Yamuna river lies Mathura. Like its neighbours Vrindavan, Govardhan and Barsana, it seems to be lulled by the sweet notes of Krishna's flute. After all, it is said to be the place where Lord Krishna was born…
[/box]
[box color="white" align="left"]
Govardhan
Govardhan is a sacred hill 26km from Mathura. It is an important place of pilgrimage for Hindus; to them, Krishna and Govardhan hill are one…
[/box]
[box color="white" align="left"]
Vrindavan
Vrindavan, on the Yamuna river, is an important Hindu pilgrimage centre attracting more than 500,000 devotees each year. Vraj (another name for the town) has several thousand temples, ancient and modern, mostly dedicated to Krishna, the dark-faced god. He is said to have spent the first years of his childhood here…
[/box]
[box color="white" align="left"]
Barsana
Barsana is a peaceful small town and an important pilgrimage centre for Hindus. It seems still to resonate with the divine love between Radha and Krishna. The "temple of the beloved", built like a Rajput palace, stands majestically on Bhanugarh hill. Absolutely not to be missed if you visit Mathura and Vrindavan…
[/box]
[box color="white" align="left"]
Allahabad
"Incredible India", the country's official slogan, is no exaggeration at Allahabad. Legend has it that the god Brahma named it Tirth Raj or "king of pilgrimage centres". It is here that the incredible Maha Kumbha Mela is held once every 12 years…
[/box]
[box color="white" align="left"]
Varanasi – Benares
They say that Brahma the creator god once declared, "I had to create the world several times but Varanasi is different. It was created by Shiva in person". Varanasi, Benares, Kashi, city of light, is a town to be lived in and felt rather than visited. The city of Shiva speaks to the soul…
[/box]
[box color="white" align="left"]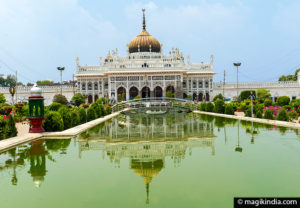 Lucknow
Lucknow, the capital of Uttar Pradesh, is not the most popular city of the state. Travelers usually prefer the mystic Varanasi or Agra and its famous Taj Mahal. Yet, what a wonderful surprise! Lucknow amazes us with the splendor and refinement of its historic buildings. From the 18th to the 19th century, it was the capital of the Nawabs, extravagant rulers and lovers of the arts, who contributed greatly to the city's cultural richness by developing dance, music and poetry while building many unique monuments in India.
[/box]
[box color="white" align="left"]
Ayodhya
Ayodhya, set on the banks of the Sarayu river, is a mythical city: it is said to have been the capital of the Kosala Kingdom, which saw the birth of Lord Rama, the famous hero of the Ramayana epic. As such, it is considered by Hindus as one of the seven most sacred cities of India (Sapta Puri). Like all pilgrimages places, the spiritual fervor is palpable there even if the city has been the centre of a religious conflict since two decades….
[/box]