Delhi, New Delhi, Old Delhi
Within the city of Delhi is New Delhi, capital of India. Delhi is a megacity where ultra-modern buildings rub shoulders with old open-fronted shops and narrow-laned bazaars. The great megacity may not appeal at first glance, but the vestiges of its Mughal and British history will work their charm on you.
Historically, Delhi has been the capital of several Indian empires. In 1526 the Mughals established their capital in what is now known as Old Delhi. In the early 20th century, the government of British India moved the capital from Calcutta (now Kolkata), which was considered too far from the country's centre, to Delhi – or rather to a new town built just south of the old city. New Delhi became the capital of India in 1911. In 1947 the newly independent country confirmed New Delhi as its capital.
New Delhi is often confused with Delhi. In fact New Delhi, the seat of government, is a municipality with a population 250,000 within what is officially called the National Capital Territory of Delhi, which has a total population of nearly 17 million.
Festivals not to miss
---
India Art Fair: Art Fair takes place in New Delhi in January and welcomes visitors to the largest contemporary art event in South Asia. Offering a unique opportunity to discover the best galleries in the region and beyond, India Art Fair's programme includes lectures, projects and events across the capital with an emphasis on cultural experience and education. www.indiaartfair.in
---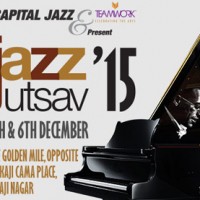 Jazz Utsav Festival: The Jazz Utsav is a 2 day festival of Jazz featuring some of the best known jazz artistes from India and across the globe. It is in its 31st year, and has in the past featured some of the best names in the Jazz world, like Sonny Rollins, Larry Carlton and Wayne Krantz. This year the headliners are Rudresh Mahanthappa's Gamak from USA, and Artur Dutkiewicz Trio from Poland on the 5th and 6th respectively. jazzutsav.teamworkarts.com
---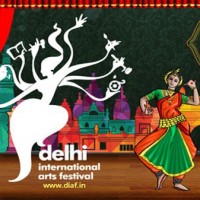 Delhi International Arts Festival – Diaf: Delhi International Arts Festival, the first multi art, multi venue annual cultural festival made its debut in Dec 2007. For 8 years now, DIAF has been the most influential and prestigious arts festival of Delhi. The festival annually gives Delhi a rich artistic skyline comprising visual and performing arts, films, literature. An umbrella festival of all genres of music, dance, theatre, puppetry, literature, poetry, films etc. iboblr.in/~diaf/
---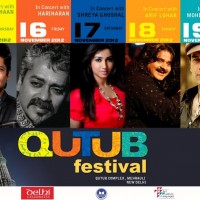 Qutub Festival: The Qutub Festival of Classical Music and Dance is held in the month of November-December to commemorate the historical importance of Qutub Minar. Set against the majestic backdrop of the Qutub Minar itself, this annual cultural extravaganza is an endeavor to present a cross section of performances by various Indian artistes. Visitors to this exotic dance festival can expect to see classical dance performance by reputed artists, listen to beautiful renditions of ghazals and qawwalis and be mesmerized by Sarangi and sitar recitals. www.seher.in/qutub.htm
---
International Mango Festival: The International Mango Festival, held annually in Delhi, India during early summer, is a two-day festival showcasing mangoes.More than 550 varieties and cultivars of mango are featured in the festival for visitors to view and taste. Activities in the festival include cultural programmes and recreational events like a mango eating competition, mango slogan writing, a demonstration of mango carving, a magic show, and a quiz about mangoes.
---
Let's visit!
---
Chandni Chowk – Old Delhi***
---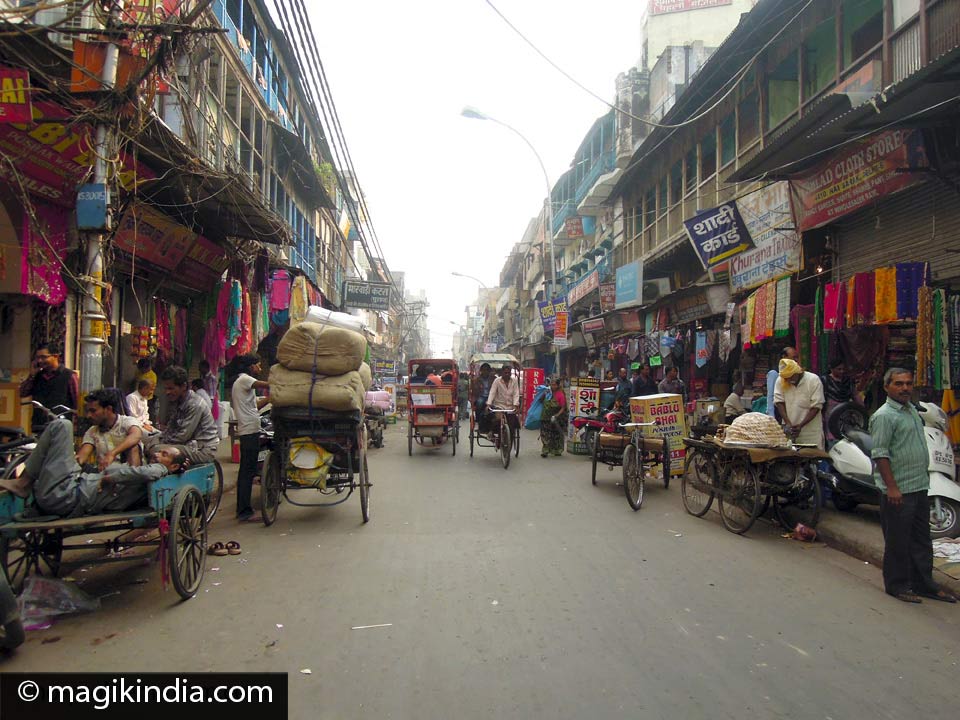 Chandni Chowk is an immense bazaar in Old Delhi, built in the 17th century by the Mughal emperor Shah Jahan. It is a beehive of activity and one of India's biggest wholesale markets.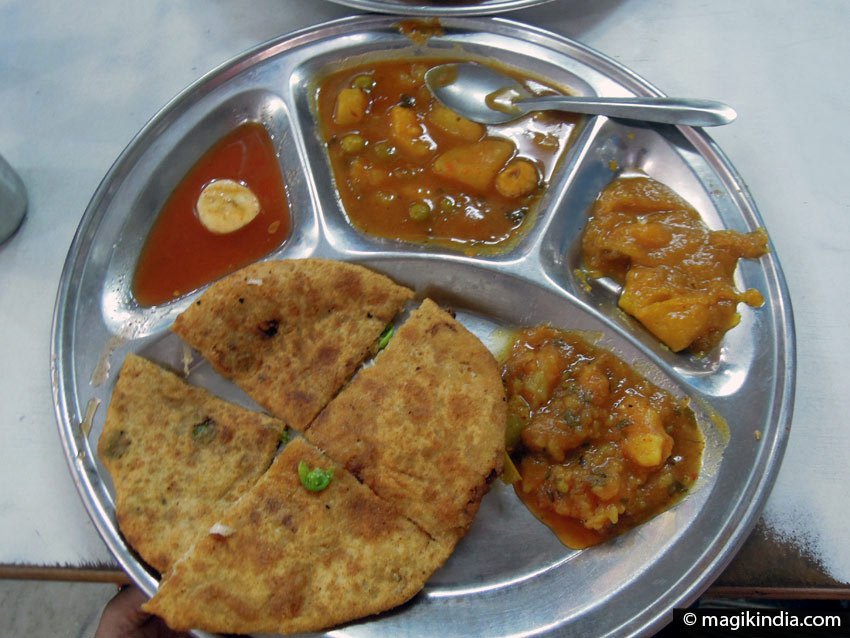 The best part of Chandni Chowk is the galis (alleys), particularly the Paratha Wali Gali or "street of paratha vendors", which is now famous far beyond India's borders. Parathas are a kind of fried flatbread; some restaurants have made a speciality of them and proudly announce the many celebrities who have come to eat there – starting with the Ghandi and Nehru families.
---
Red fort – Old Delhi**
---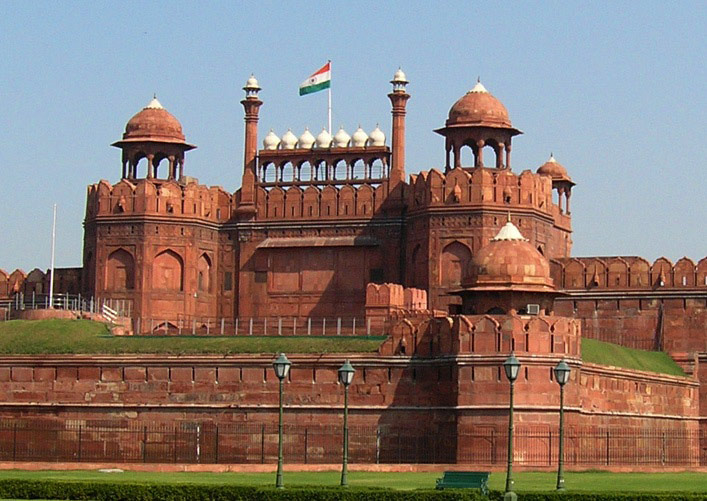 The Red Fort or Lal Quila was the residence of the Mughal emperors.
Built in 1638 on 103ha surrounded by 3km of defensive wall, it features some fine examples of Mughal, Persian, Indian and European art.
---
Humayun's Tomb***
---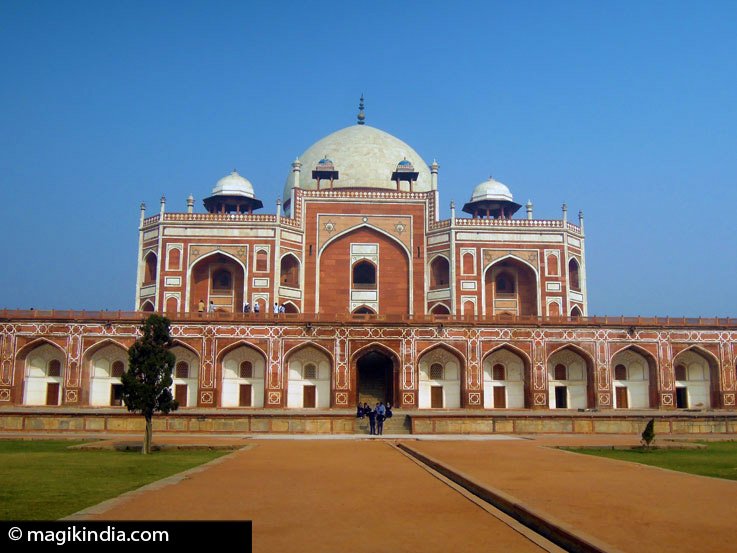 This majestic building is a Unesco World Heritage site.
It is the mausoleum of the Mughal emperor Humayun and was commissioned by his chief wife, Bega Begum, in 1569. It was the first garden-tomb to be built on the Indian subcontinent.
The complex includes the tombs of the emperor, his two wives Bega Begum and Hamida Begum and 150 other members of the royal family. It is said that it served as an example for the design of the Taj Mahal.
---
Jama Masjid – Old Delhi***
---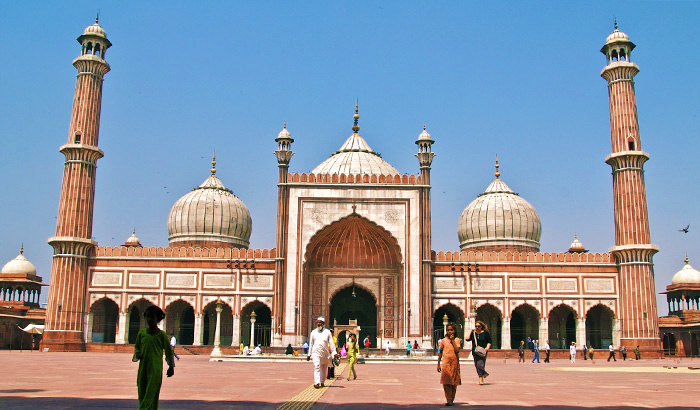 The Jama Masjid is a magnificent mosque.
It was commissioned by the Mughal emperor Shah Jahan in 1650 and built in six years. It is India's largest mosque, with a capacity of 25,000 people. It has three large entrances, four towers and two 40m minarets.
---
Qutub Minar ***
---

This astonishing "victory tower", India's tallest minaret, is a Unesco World Heritage site.
Building work on the tower began in 1192 on an order from Qutb ud din Aibak, the first Sultan of Delhi. It is over 72m tall, with a diameter of 14m at the base and 3m at the top. Around the minaret is a complex of interesting structures including the Quwwat ul-Islam, the first mosque ever built in India.
---
Baha'i, Lotus Temple **
---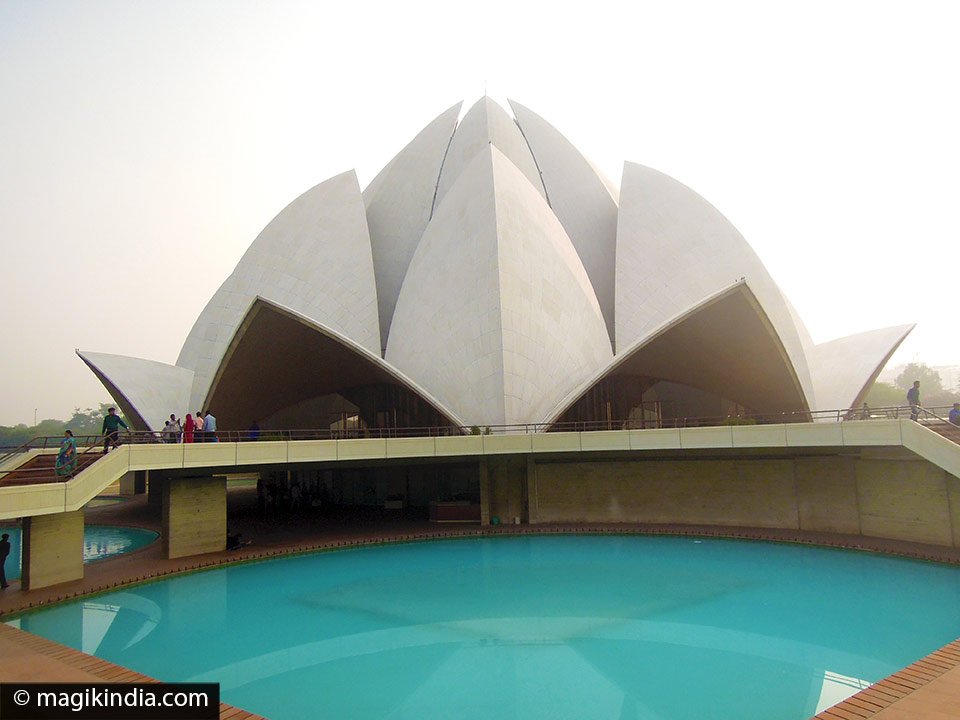 This is one of Delhi's best-known buildings owing to its unique lotus-shaped profile.
It is dedicated to the unity of all humanity's religion a central theme of the Baha'i faith. This religion emerged in Persia in the 19th century.
Its founder was Baha'u'llah, a Persian nobleman and bearer of a spiritual message whose aim was to establish unity among all humanity's religions. The lotus temple is regarded as the mother house of the Baha'i faith.
---
Akshardham Temple***
---

The Akshardham is an absolutely gigantic temple dedicated to Swaminarayan (1781-1830), a central figure of the modern form of Hinduism.
It was inaugurated in 2005. The main building is 109m long, 96m wide and 43m tall. The beauty of the architecture and stonework leave one lost in admiration. For reasons of security, photography is not allowed and you have to leave your belongings at the entrance.
---
Sri Radha Parthasarathi ISKCON Temple **
---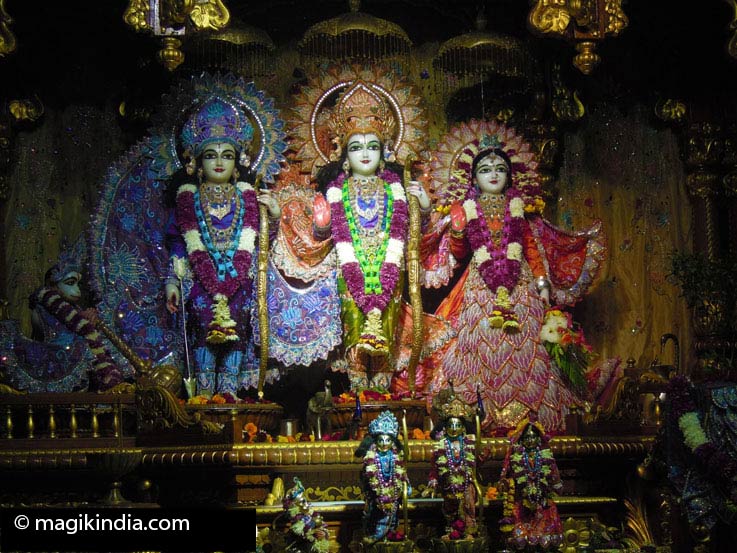 Sri Sri Radha Parthasarathi is one of the temples of the ISKCON spiritual organisation.
It was built in 1993 and is dedicated to Krishna-Radha in the form of Parthasarathi.
---
Dargah de Hazrat Nizam ud-din***
---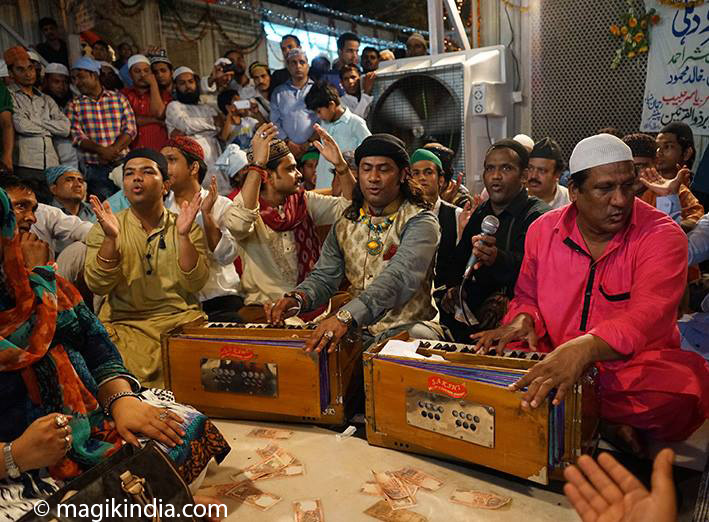 Hazrat Nizamuddin (or Nizam ud-din) Dargah is a sanctuary housing the tomb of Hazrat Khawaja Nizamuddin Auliya (1238-1325), a major Indian Sufi saint.
This place of intense faith attracts not only Muslim faithful but also people of other faiths. The spiritual fervour of this holy place reaches a peak in the evening, when qawwali singing and dhikr devotional chants ring out. A blessed atmosphere and a not-to-be-missed experience.
---