Chettinad, a forgotten splendour
Chettinad must be the most surprising part of Tamil Nadu. In the 19th century, rich Chettiar merchants built palatial houses here in a daring and harmonious blend of Eastern and Western styles. This is unique architecture with a charm of its own, inviting travellers to stop awhile for a taste of culture.
Chettinad is an area of 1550km² in Sivagangai district in southern Tamil Nadu. It encompasses 73 villages, with Karaikudi as its capital.
Chettinad is the homeland of the Nattukottai Chettiar, a merchant community who in the 19th century prospered in trade and banking, their business reaching right across Southeast Asia.
The Chettiars displayed their wealth in the form of splendid little palaces. There are about 10,000 of these dotted around Chettinad. Most are in a state of neglect; only about a dozen can be visited and some have been converted into bijou hotels.
These houses were all built on the same model and according to the rules of vastu shastra, the traditional Indian science of architecture. But the Chettiars incorporated various influences they had brought home from their constant travels. The result is a very particular architectural style and atmosphere.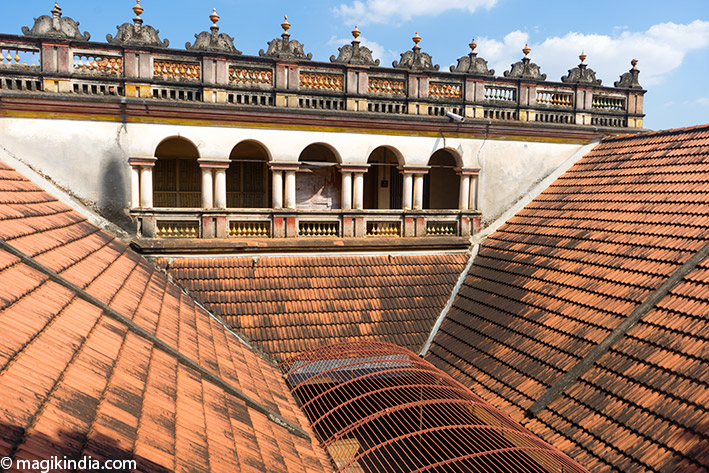 The houses consist of a series of courtyards and halls, each leading to the next, giving a perspective view through the house from one end to the other.
On the ground floor the style is typically Tamil, with an entrance veranda and courtyards surrounded by small rooms. On the upper floor you find the canons of 19th century Western architecture with colonnades, cornices and balustrades.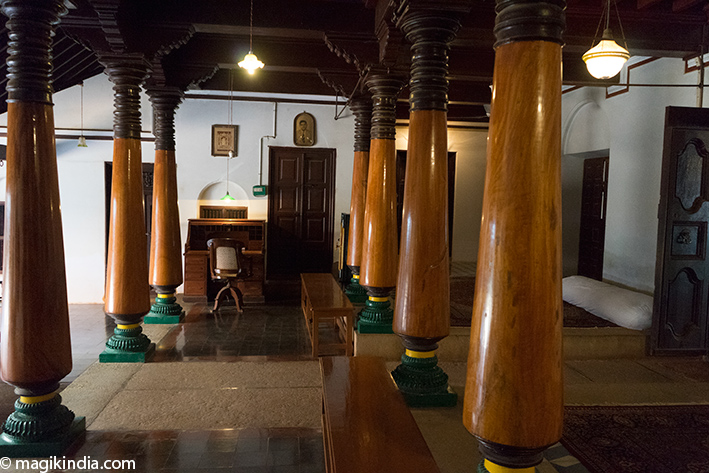 The building materials, decoration and furniture were mostly imported from East Asia or Europe.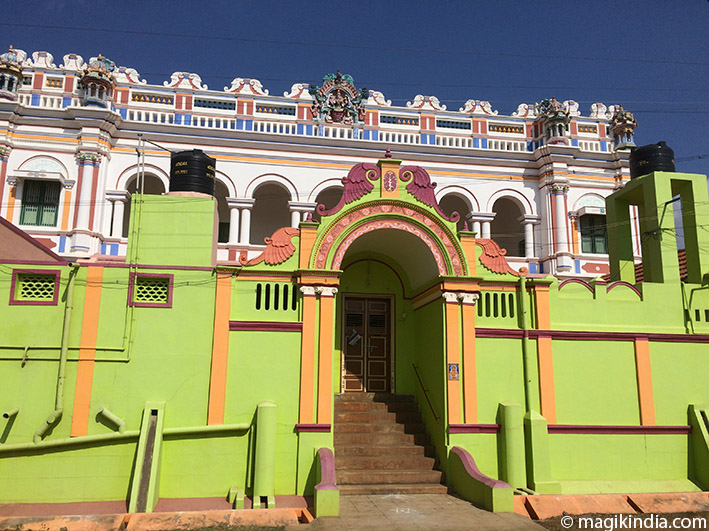 World War II destroyed the Chettiars' business economy. Many emigrated to Sri Lanka, Burma or Malaysia in search of new business prospects.
Chettinad fell into obscurity, and few have been interested in investing to restore the past splendour of these homes.
However, French architects Michel Adment and Bernard Dragon have taken up the challenge. In 2010 they tastefully restored the former home of Subramanian Chettiar, turning it into a luxury guesthouse called Saratha Vilas.
They have also founded an association called ARCHE-S, whose aim is to preserve and promote the natural and cultural heritage of the Chettinad region.
=> sarathavilas.com
=> arche-s.org
Let's hope that the region can work its charms on the authorities so that these forgotten palaces will at last be internationally recognised and protected.
---
Other attractions
---
Sari weaving workshop in Kadiapatti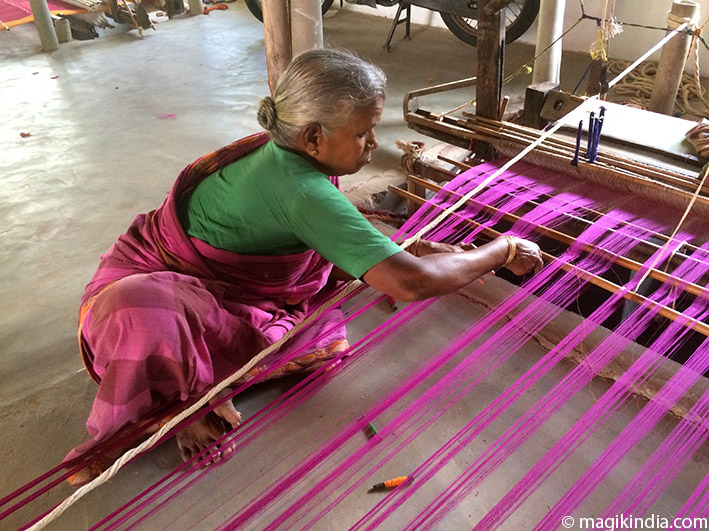 Chettinad saris, or Kandaangi saris, are famed for their extensive use of colours, contrasting tints and patterns stripes. They tend to be thicker and more durable than many saris. They used to be wound round the body without any other garment. Originally they were shorter in lengh with the deliberate aim was to let the women show off their ankle.
Ayyanar temples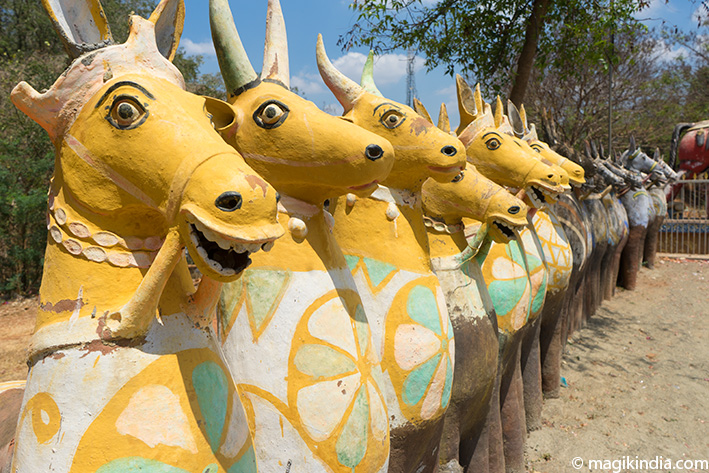 Ayyanar is the protector god of Tamil villages, protecting the inhabitants from evil spirits and the floods and droughts that threaten farming communities. His sanctuaries can be recognised by their rows of cheerfully smiling terra cotta horses.
Athangudi glazed tiles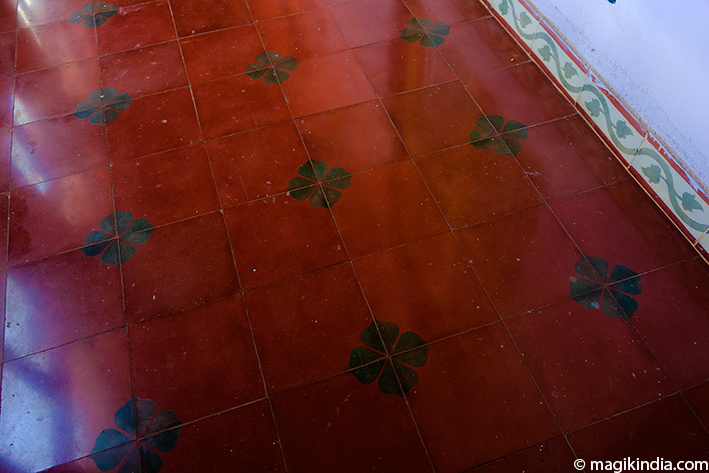 Attangudi or Athangudi is a small Chettinad village famous for the decorative tiles manufactured there. They are handmade and painted with traditional patterns. They were used to decorate the Chettiar palaces.
Chettinad cooking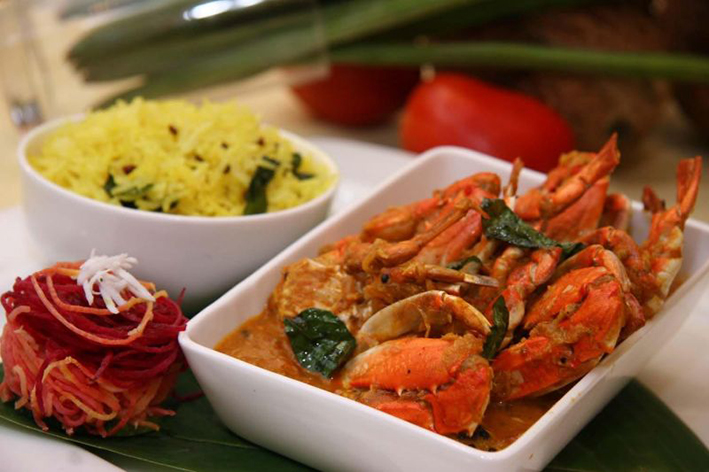 Chettinad is also famous as the home of South India's spiciest and most aromatic food. It uses a wide range of freshly-ground spices. This is non-vegetarian cuisine, making ample use of fish, seafood, chicken and mutton. Most dishes are accompanied with rice, dosas, appams, idiyappams or idlis.