Hampi

The city of the Vijayanagara kings is one of the most grandiose sights in India. A listed Unesco World Heritage site, it features thousands of vestiges spread over an area of more than 4000ha. Hampi is a treasure chest lost in a desert of rocks lovingly polished by time.
For the most part Hampi consists of vestiges of the capital of the 14th-16th-century Vijayanagara empire, the last great Hindu kingdom founded by Telegu princes in 1336.
At its peak, the city had a population of over a million, making it a very large town for its time. Exploring the wonders of the site one can easily imagine Hampi's original wealth and importance. The city was abruptly abandoned, plundered and destroyed after a defeat by the Deccan Muslims in 1565.
You will need at least two days to see it all, and three if you also cross the Tungabhadra to visit the other shore.
Festival not to miss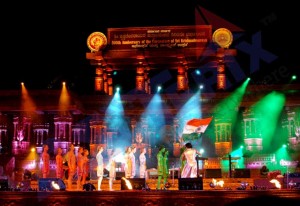 Hampi Utsav: Hampi Utsav, also known as the Vijaya Utsav, Festival of Hampi has been celebrated from the times of the Vijayanagar reign. This event has been reiterated as the "Nada Utsava " by the Government of Karnataka. This festival is attributes to the mega cultural extravaganza. Renowned artistes all over India come forward in bringing the grandiose days of the Vijayanagar Period to the present day.
To Visit
[ Share 🙂 ]