Palani
Palani temple is one of the most important temples to the Hindu god Muruga or Kartik, being the third of his Six Holy Abodes (aarupadai veedu). Like most Muruga temples it stands on a hilltop, 100km southeast of Coimbatore and it is buzzling with pilgrims dressed in yellow and green exclaiming 'Haro Hara' and dancing until they fall into a trance…
Arupadai Veedu : the 6 sacred abodes of Lord Muruga
---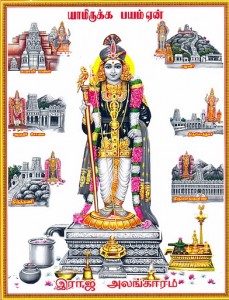 Tamil Nadu has a considerable number of temples dedicated to Muruga but the Aarupadai Veedu are the most sacred, for legend has it they are built on the sites of six battles in which Muruga fought against demons.
The six sites are Thiruparamkundram, Thiruchendur, Palani-Thiruavinangkudi, Swamimalai, Thiruthani and Pazhamudhircholai. Although it is not on this list, Marudhamalai Temple in Coimbatore is also considered an aarupadai veedu by some.
The legends associated with these six temples derive from the sacred Purana texts and local mythology.
The Legend of Palani
---
As Shiva and Parvati sat on the summit of Mount Kailash one day, Lord Narada came to visit and gave them a celestial fruit (pazham) of wisdom and knowledge.
The fruit could not be shared, so Shiva decided to set a challenge for his two sons, Ganapati (the Tamil name for Ganesha) and Muruga, and give the fruit to whoever won the contest. He told them to go round the world, and promised the fruit to whichever returned first.
Muruga set off on his peacock (his divine vehicle) and journeyed right round the world. Ganapati simply walked around his parents, and as Shiva and Parvati represent the universe, he won the fruit.
When Muruga returned he was so furious that he renounced the world and retreated to a hilltop. Shiva and Parvati tried to comfort him, saying: "Muruga, you yourself are a divine fruit, the fruit of all wisdom and all knowledge, so why would you need this fruit?" In Tamil, pazham nee means "you are the fruit", so the place came to be known as Pazhani, which became Palani. However, some say the name derives from pazhanam meaning "paddy fields".
Kavadi
---
A typical feature of festivals and pilgrimages dedicated to Muruga is the kavadi, generally a wooden yoke carried on the shoulders.
It is decorated with flowers, peacock feathers and suchlike and usually has bags of offerings for Lord Muruga hung on each end. A kavadi can weigh up to 30kg.
The kavadi tradition derives from Hindu mythology, the bags carried symbolising two hills.
Legend says that Lord Shiva on Mount Kailash instructed the sage Agastya to move two hills (Shivagiri and Shaktigiri) to southern India. The sage asked his disciple Idumban to help him, so Idumban hung one hill on each end of his yoke and set off. After journeying for a long time, Idumban stopped to rest in Palani and set the hills down on the ground.
At that very moment Muruga arrived, having lost the contest with his brother (see above).
After resting, Idumban prepared to continue his journey but found he could not pick up the Shivagiri hill as there was a child standing on top of it.
This was Muruga, but Idumban took him for an ordinary child and ordered him off the hill. Muruga refused and a fight ensued in which Idumban was defeated. Realising that he had fought Lord Muruga, Idumban begged forgiveness and asked the young god to grant him two wishes: first, that whoever visited the temple at Palani bearing a kavadi on his shoulders should be blessed; second, that he, Idumban, be granted the honour of guarding the hill. As a result, half-way up the hill there is a shrine to Idumban, where pilgrims make offerings before visiting the temple and its Muruga statue.
Ever since, pilgrims have come to Palani bearing a kavadi with their offerings, a custom that has now spread to Muruga temples all over the world.
Kavadi pilgrims must respect certain rules: to abstain from non-vegetarian food, alcohol and other addictive substances, to take a vow of abstinence and to journey to Palani on foot. They dress in yellow or green, the colours traditionally associated with Muruga.
Some kavadi bearers pierce their bodies with hooks or a vel (Muruga's lance) to demonstrate their devotion to Muruga. This makes for some impressive sights.
The kavadi's symbolism. The word kava means "saffron" and adi means "there". The yoke symbolises humility in life and faith in the divine. A kavadi pilgrim must live simply and humbly and should afterwards strive to live their whole life in that way.
Haro Hara!
---
In temples dedicated to Lord Muruga in Tamil Nadu, we can hear the faithful exclaiming "Haro Hara!"
Haro Hara! is a shortened form of the phrase 'Ara Haro Hara'. Its meaning is: Oh God Almighty, please remove our sufferings and grant us salvation.
It is said that it was first used by Saivaites (followers of the god Shiva ) at the time of Thirunjana Sambandar, one of the most prominent of the sixty-three Nayanars, Tamil saints who lived between the sixth and the tenth centuries CE. During Thirunjana Sambandar's journeys, the bearers of his palaquin and followers had the habit of chanting meaningless phrases – like 'yeleloh yeleloh', as a form of stress relief.
Thirunjana Sambandar taught them to replace these with the meaningful "Ara Haro Hara'. Over time, the use of 'Ara Haro Hara' faded among the 'Saivaites' but lived on with the 'Kaumaras' (Muruga Devotees). It was further shortened to the present 'Haro Hara'.
Palani idol
---
The statue of Muruga in the Palani temple is called Dandayudhapani Swami, meaning "he who holds a staff in his hand".
According to legend, the statue was made by a siddha* named Bogar from a navapashanam, a mixture of nine poisons (veeram, pooram, rasam, jathilingam, kandagam, gauri pasanam, vellai pasanam, mridharsingh and silasat) which, blended in the right proportions, produce a master medicine or universal panacea. When abhishekam (anointment of the deity) is performed, whatever is poured over the statue becomes impregnated with these healing properties.
The statue, standing on a stone plinth, takes the form of a young monk, shaven-headed and devoid of all finery, wearing only a loincloth and holding a pilgrim's staff. He has disproportionately large ears to show that he listens attentively to every prayer from his many followers. This is the only statue of Muruga of its kind in India.
* A siddha is an "accomplished one", meaning one who has attained enlightenment by practising meditation and yoga. Bogar is one of India's 18 siddhas; he is said to be buried beneath the Muruga statue.
[ Share 🙂 ]