Kollam (Quilon)
Kollam (Quilon), southern gateway to the Kerala backwaters, was once a flourishing port where Romans, Chinese and Arabs came to trade. It is known as the world capital for cashew nuts, but its main attraction is Ashtamudi Lake. The lake offers delightful walks to Munroe Island or a stay with a local family among the palm groves. Wonderfully restorative.
Ashtamudi Lake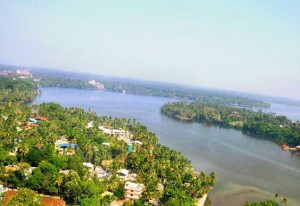 Kerala's second largest lake, Ashtamudi Lake is 16km long and is noted for its splendid waterscapes and wetlands.
"Ashtamudi" means "eight branches"; the lake is a fusion of eight smaller bodies of water that converge towards the Neendakara estuary where they empty into the Arabian Sea. The lake is fed mainly by the Kallada River, formed by the meeting of the rivers Kulathupuzha, Chenduruni and Kalthuruthy which flow down from the Western Ghats.
Munroe Island
This cluster of eight small islands, about 14km across, lies between Ashtamudi's upstream backwaters and the Kallada River.
It is named after Colonel Munroe, the second administrator of Travancore district under British rule.
If you want to take things easy, a homestay on Monroe Island is just perfect, offering complete tranquillity and bona fide local food. From there, a trip in a canoe that zigzags skilfully among the creeks reveals all the island's wild beauty with mangrove swamps, palm groves and flocks of migratory birds making a stopover. You can also witness local crafts such as weaving coconut fibre, called coir, extracting coconut oil and making toddy, a kind of coconut beer.
Festivals not to miss
Paripally Gajamela: Parippally Gajamela is part of the annual festival at the Kodimoottil Sree Bhagavathy Temple dedicated to Goddess Bhadrakali. The word gajamela in Malayalam literally means festival of elephants. Several cultural programmes are also arranged as part of the event on the temple premise. The get-together of the 50 caparisoned selephants takes place on the last day of the ten-day festival.
[ Share 🙂 ]