Indian Breakfasts
Breakfast in India is usually savoury and spicy. It's a full meal and often versatile, some dishes being suitable for any time of day. 
Here is a selection of the most popular indian breakfasts.
Idli
Idli is a savoury cake traditionally served as breakfast in South India.
The cakes are usually two to three inches in diameter and are made by steaming a batter consisting of fermented black lentils (de-husked) and rice.
Since plain idlis are mild in taste, a condiment is considered essential. Idlis are often served with sambar but this varies greatly by region and personal taste. Idlis are also frequently served with chutnies (coconut or tomato based).
Uttapam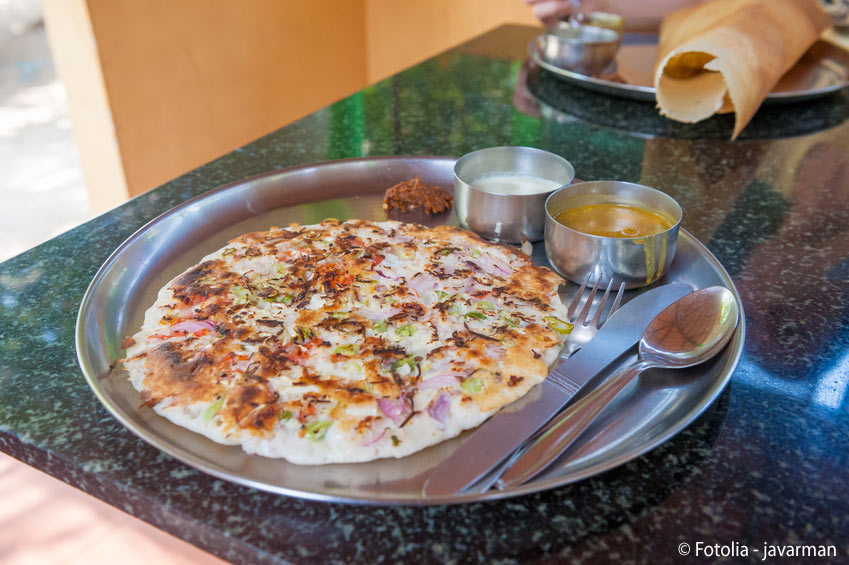 Uttapam is a kind of thick pancake eaten in South India with toppings cooked right into the batter. it is sometimes called "Indian Pizza".
Uttapam batter is made of a 1:3 ratio of urad dal and rice and it is traditionally made with toppings such as tomatoes, onion, chillies, capsicum and cabbage mix; other common choices are coconut or mixed vegetables.
It is often served with with sambar or chutney.
Masala Dosa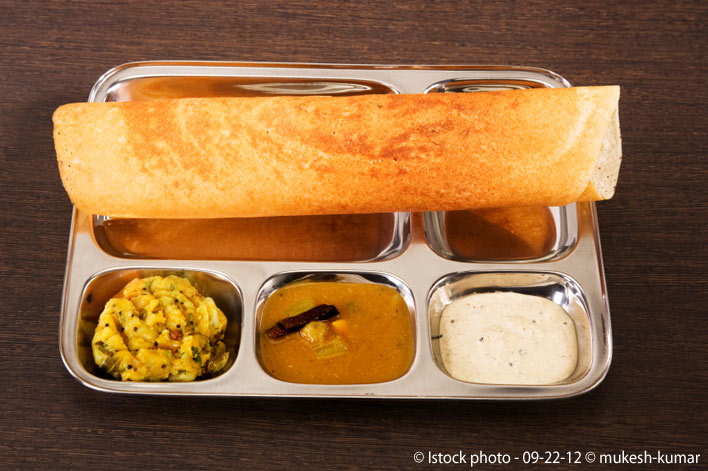 Masala dosa is a simple but delicious South Indian meal. It can be served for breakfast but also for lunch and dinner.
Masala dosa is actually a stuffed dosa. The Dosa is a crispy crepe made in the usual way by soaking rice and lentils overnight in water and then grinding it to a batter. The fermented batter is used to make dosa.
The stuffing is made from boiled potatoes with a seasoning of mustard seeds and garnishing of grated coconut, coriander and, lemon juice.
It is usually served with chutnies.
Puri Bhaji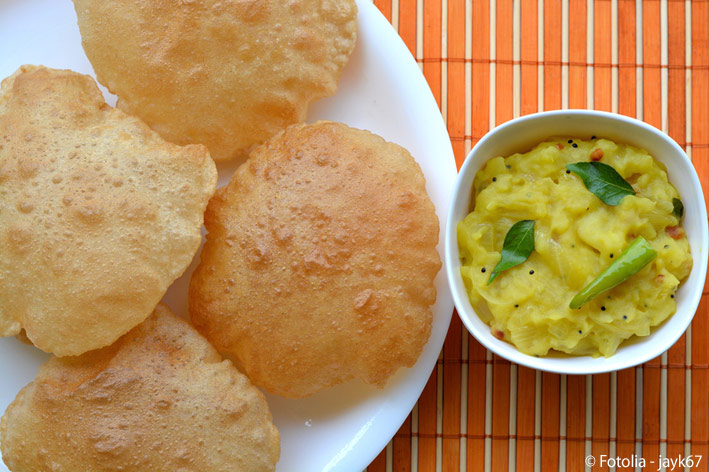 Puri Bhaji is made up of puri and potatoes. It is a traditional breakfast dish in North India.
The Puris are made up of flat rounds of flour which are deep fried, served with a spiced potato dish which could be dry or curried.
Upma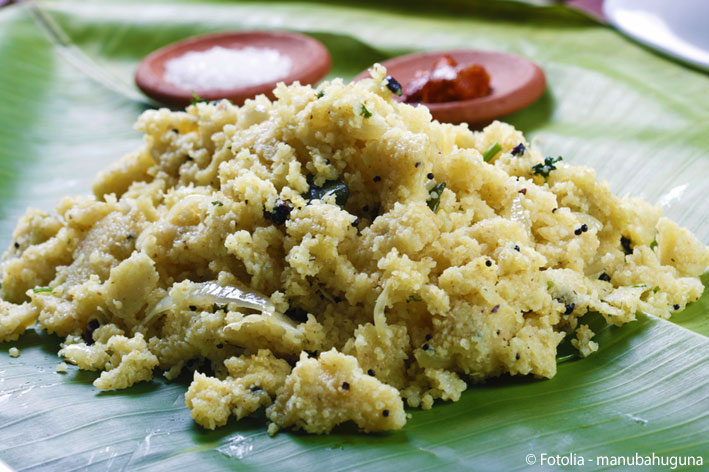 Upma or Uppuma is a common South Indian breakfast dish, cooked as a thick porridge from dry roasted semolina or coarse rice flour.
Various seasonings and/or vegetables are often added during the cooking, depending on individual preferences.
Upma is usually served with coconut chutney, lime slices or lime pickle.
Puttu
Puttu is a South Indian dish of steamed cylinders of ground rice layered with coconut.
It is highly popular in the Indian state of Kerala as well as in many areas of Sri Lanka, where it is also known as pittu.
Puttu is served with side dishes such as palm sugar or chickpea curry or banana. In Bhatkal Puttu is served with side dishes such as ghee and sugar or Paya or mutton curry.
Ada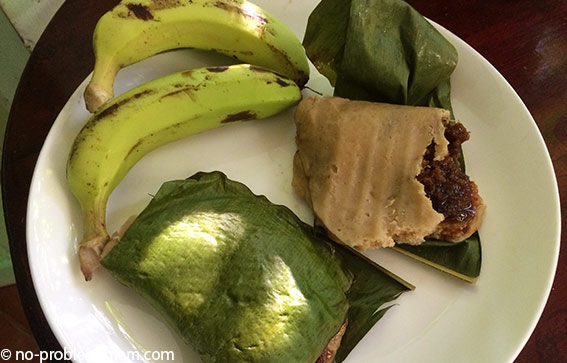 Ada is a traditional Kerala delicacy, consisting of rice parcels encased in a dough made of rice flour, with sweet fillings, steamed in banana leaf and served as an evening snack or as part of breakfast.
It can be seen even in parts of Tamil Nadu as well. It's made out of raw rice flour, sugar or jaggery and grated coconut. It is usually prepared on Onam festival.
Appam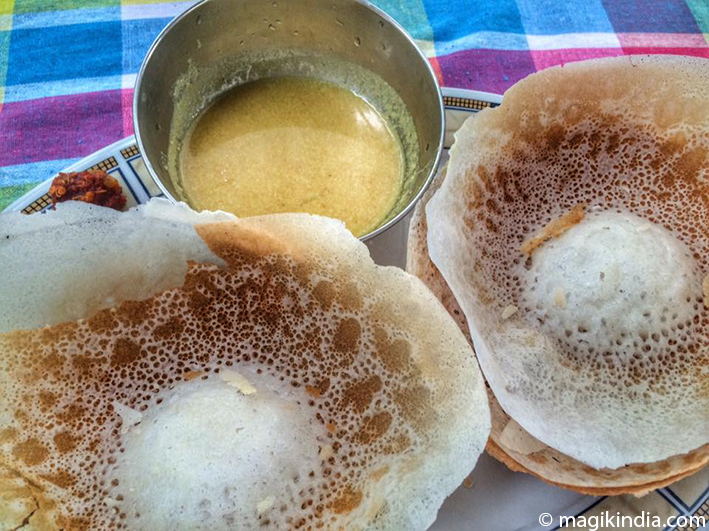 Appam is a type of pancake made with fermented rice batter and coconut milk.
It is a common food in the South Indian state of Kerala. It is also popular in Tamil Nadu and Sri Lanka.
It is eaten most frequently for breakfast or dinner.
Paratha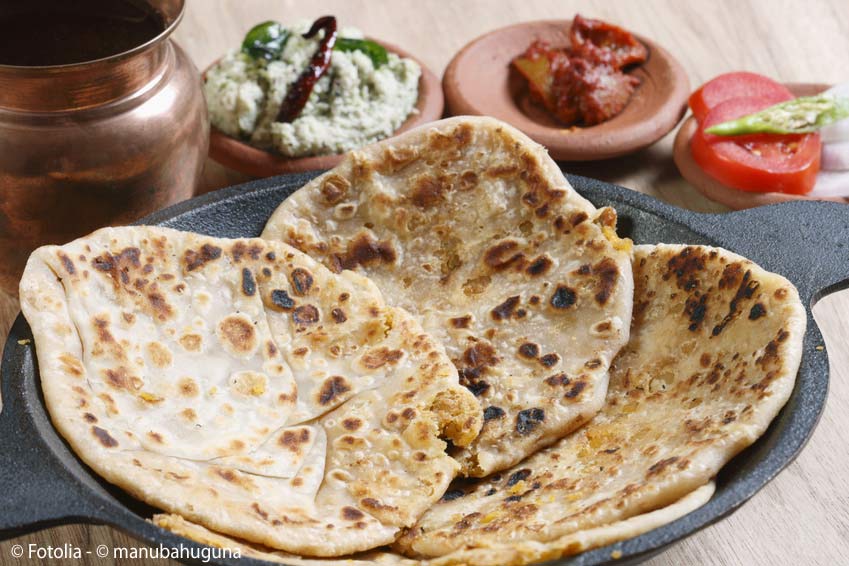 Parathas are one of the most popular unleavened flatbreads in the northern part of the Indian Subcontinent and they are made by baking whole wheat dough on a tava pan.
Parathas can be eaten as a breakfast dish or as a tea-time (tiffin) snack.
Perhaps the most common stuffing for parathas is mashed, spiced potatoes (aloo ka paratha). Many other alternatives exist such as leaf vegetables, cauliflower, and/or paneer.
A paratha (especially a stuffed one) can be eaten simply with a pat of butter spread on top or with chutney, pickles or ketchup and curd.
Poha
Poha is a light breakfast made with flattened dry flakes.
Poha is usually cooked with lightly frying mustard seeds, turmeric, chili powder, finely chopped onions and then moistened poha is added to the spicy mix and steamed for a few minutes.
Chole Bhature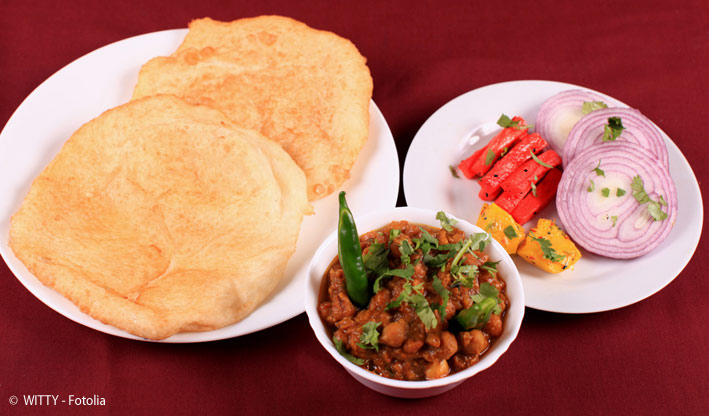 Bhatura chole is a combination of 'chana masal' (spicy chick peas) and fried bread called bhatoora (made of maida flour).
Bhatura chole is served with onions, carrot pickle, green chutney and achaar.
Dhokla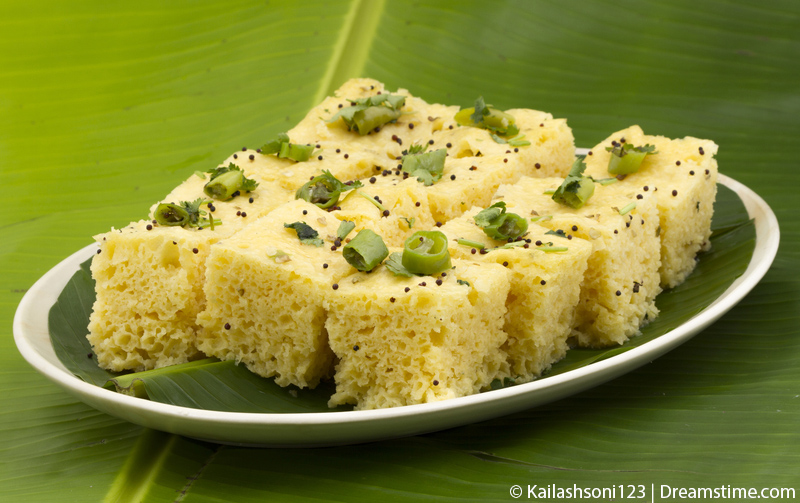 Dhokla originates from the Indian state of Gujarat. It is made with a fermented batter derived from rice and split chick peas.
Dhokla can be eaten for breakfast, as a main course, as a side dish, or as a snack.
It is usually served with deep fried chillies and chutney made of coriander. It is garnished with coriander and often with grated coconut.
Idiyappam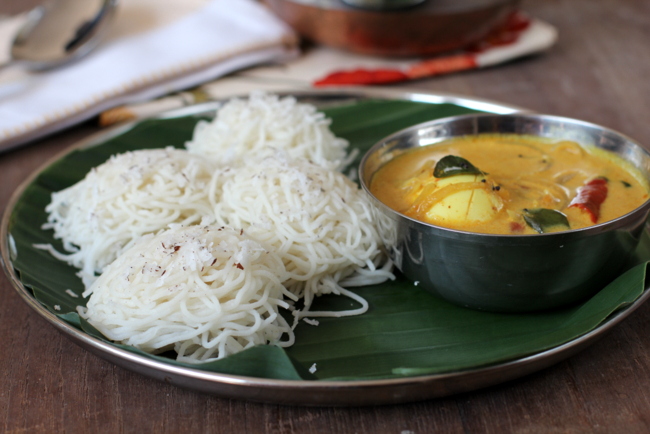 Idiyappam are string hoppers served in Tamil Nadu, Kerala and Sri Lanka.
It is made of rice flour or ragi flour (Finger millet flour), salt and water pressed into noodle form and then steamed.
It is generally served as the main course at breakfast or dinner together with a curry (potato, egg, fish or meat curry) and coconut chutney.
It is served with coconut milk and sugar in Sri Lanka and in the Malabar region of Kerala. It is not usually served at lunch. In other parts of Kerala and Tamil Nadu, it is mostly eaten with spicy curries.
Vadai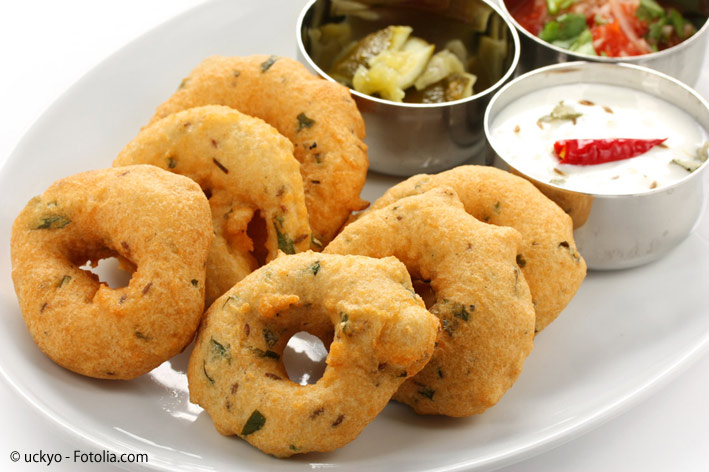 Vasai or vada is a savoury fritter-type snacks from South India.
Vada can vary in shape and size, but are usually either doughnut- or disc-shaped. They are made from black grams and Bengal grams.
Vada are typically and traditionally served along with a main course such as Dosa, Idli, or Pongal.
Nowadays it is also ordered as an 'à la carte' item but is never the main course and is eaten as a light snack or an accompaniment to another dish. Vada are preferably eaten freshly fried, while still hot and crunchy and are served with a variety of dips ranging from sambar to coconut chutney to curd.
Paniyaram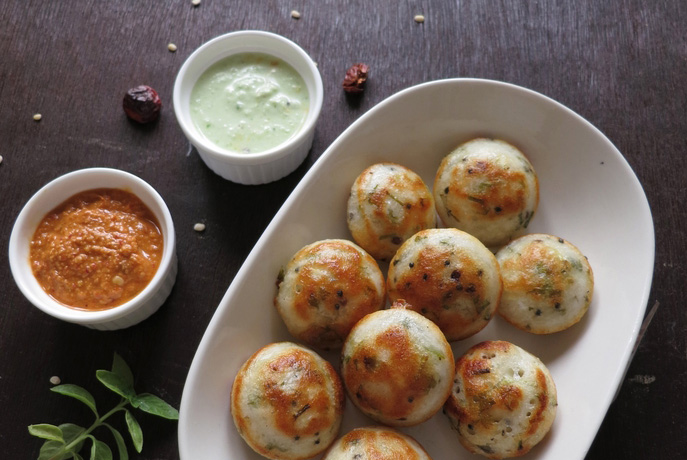 Paniyaram is an Indian dish made by steaming batter using a mould.
The batter is made of black lentils and rice and is similar in composition to the batter used to make idli and dosa.
The dish can be made sweet or spicy depending on the ingredients jaggery and chillies respectively. it can be served as a snack or breakfast. h