Mamallapuram (Mahabalipuram)

The little spray-swept village of Mahabalipuram, 60km south of Chennai, is a delight, although very touristy. The Pallava kings left architectural masterpieces, Unesco World Heritage, whose distinctive style spread as far as the Far East.
The Pallava kings ruled Tamil Nadu for 400 years, from the 6th century to the 9th. Kanchipuram was their capital and Mamallapuram their seaport. Long before the Pallavas took power, Mamallapuram (or Mahabalipuram) was known for its flourishing seaport where ships from Greece and elsewhere came to trade.
The Mamallapuram monuments were built between the 7th and 8th centuries under the reigns of the Pallava kings Mahendravarman I (600–630), his son Narasimhavarman I (630–668), Mahendravarman II (668–672), Paramesvaravarman I (670–695) and Narasimhavarman II (695–722).
Most of the monuments were built under Narasimhavarman I, the "great warrior" or "Mamallan", after whom the place is named. They are said to have been built as a kind of memorial to the Pallava victory over king Chalukya Pulakesin II. The fortune Mamallan acquired through conquest was invested in embellishing the town with splendid buildings.
There are four different types of monument in the Mahabalipuram complex: rathas, which are temples shaped like chariots and carved from a standing block; mandapas, which are temples carved into a rock face; temples built from stone blocks; and relief carvings on rocks.
---
Festival not to miss
---
Mamallapuram Dance Festival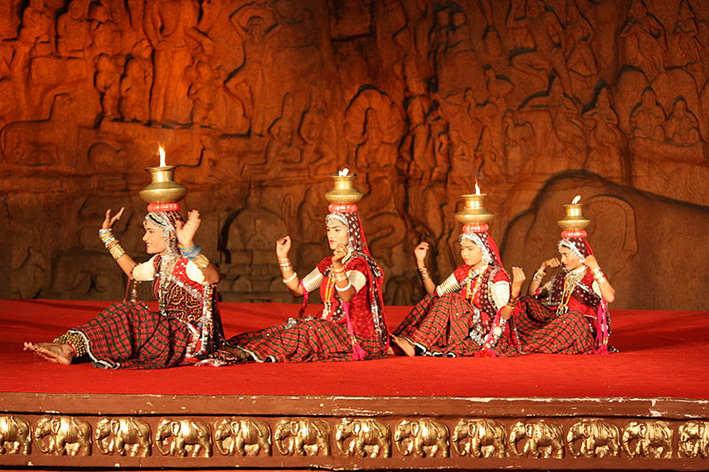 The Mamallapuram Dance Festival is held every year during Dec-Jan in Mamallapuram. This festival of indian classical dances is organised by Department of Tourism, Govt. of Tamil Nadu. Exponents of Bharatanatyam, Kuchipudi, Kathak, Odissi, Mohini Attam and Kathakali perform against this magnificent backdrop of the Arjuna penance's rock sculptures (see below).
=> READ MORE ABOUT INDIAN CLASSICAL DANCES
---
Let's visit!
---