Madurai
The legend has to that Madurai was built where a drop of divine nectar fell from Lord Shiva's hair. The town is best known for the huge temple dedicated to Meenakshi. This is a masterpiece of Dravidian art and an important spiritual centre. It is undeniably one of India's loveliest temples.
The temple stands on the south bank of the river Vaigai. It is dedicated to the goddess Meenakshi, one of the forms of Parvati. Meenakshi means "fish's eye", from meena, "fish", and aksi, "eye". Shiva, her divine spouse, is represented here as Sundareswarar.
The temple was built between the 12th and 18th centuries.
High walls surround the 6ha compound, with the Meenakshi and Sundareswarar shrines in the middle and many other small shrines and large pillared halls.
The temple has 12 gopurams (towers) decorated with stucco reliefs of deities, mythical animals and monsters, all in bright colours. The highest towers are 52m tall. The temple is reckoned to contain over 30,000 statues. The jewel in the temple's crown is the hall of a thousand painted pillar, which now serves as a museum.
The Meenakshi temple, almost a town in its own right, draws up to 25,000 visitors a day. The annual ten-day Meenakshi Tirukalyanam festival in April and May brings in nearly a million visitors.
Unfortunately, as with many major pilgrimage centres in India, non-Hindus are not allowed into the sanctum sanctorum. But you can console yourself with a visit to the vibrant Pudhu Mandapam at the eastern entrance to the temple. In this old pillared hall boasting some antic statues you'll find stalls selling all kinds of things from books to textiles and soft furnishings, and a host of tailors' stalls. The atmosphere is quite something.
Festival not to miss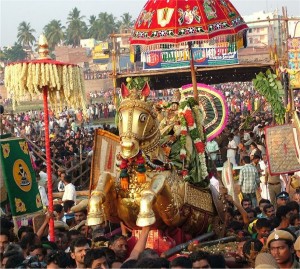 Chithirai Thiruvizha : Chithirai Thiruvizha (Festival celebrated during the Tamil month of Chitirai) is an annual celebration celebrated in Madurai during the month of April.
The festival marks the wedding of Goddess Meenakshi to Lord Sundareswarer (Shiva).
A procession of a gold idol of Lord Azaghar ( a form of shiva), seated on a horse, is carried out by the devotees from Azaghar Koil to Madurai. This is done to take the Lord to Madurai for attending the wedding rituals.
The festival stretches on for about 10 days and the participation of the devotees is unmatched.
[ Share 🙂 ]