Ranakpur
On the road between Udaipur and Jodhpur, tucked away in a magnificent valley in the Avaralli hills, there stands a gem of architectural virtuosity: the Jain temple of Chaturmukha, one of the largest and finest Jain temples in India and an architectural marvel.The building is so richly and densely decorated that the gaze pans in amazement across the omnipresent intricate carvings.
The Ranakpur temple complex comprises several temples and is one of the five major pilgrimage sites of the Jain faith.
The main temple, the Adinath temple, was built in the 15th century on the orders of a rich merchant, Dharna Sah. He had a vision of the completed temple at the site, recruited an architect called Depa and asked King Kumbha for help. The king gave him the land and the necessary help.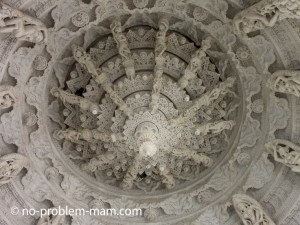 The temple is built of white marble throughout, covers an area of some 4400m2 and includes 1444 finely carved pillars, 24 halls, 80 domes and two 110kg bells.
It's understandable that it took 65 years to build.
It houses a statue of Chaumukta or Adinath, the first Tirthankar (Jain saint). Chaumukta means "four heads" and represents the four cardinal points. Only jain devotees can enter the Sanctum Santorum.
There are three other temples just by Adinath:  two Jain temple dedicated to Neminatha and to Parsavanath also known as "the temple of prostitutes" because of its voluptuous statues and one Hindu temple to the sun god, Surya.
---