Dwarka
Dwarka is a peaceful sacred town beside the Oman Sea where it's nice to just laze around, especially along the ghats at sundown when the shellfish vendors gather there. Dwarka tells you about Lord Krishna's story who founded his kingdom here, and about the mystic poetess Meerabai who said to have spiritually united with him there.
Dwarka is sacred in many regards; it is one of the seven oldest and most holy towns in India known as the Sapta Puri and it is also one of the subcontinent's four most revered pilgrimage centres, the Char Dham.
It is said that Lord Krishna, migrated from Mathura to Dwarka to found his capital here 5000 years ago.

Meerabai, the divine poetess
Authentic records about Meera Bai are not available. Scholars suppose that Meera or Meera Bai lived in the16th-century. She is a celebrated Bhakti (devotion) saint, particularly in the North Indian Hindu tradition.
Meera Bai was born into a Rajput royal family from Pali, Rajasthan, but she renounced the worldly life to devote herself to the worship of Lord Krishna and for that reason she was persecuted by her in-laws.
Meera Bai is said to have spent the last years of her life in Dwarka. The legend has that she entered the Dwarkadeesh temple one day and was spiritually united with Krishna. She was never seen again. Only her sari was found wrapped around the statue of Krishna.
Thousands of devotional poems in passionate praise of Lord Krishna are attributed to Meera in the Indian tradition, but just a few hundred are believed to be authentic by scholars. These poems are commonly known as bhajans (devotional songs).
"My Dark One has gone to an alien land.
He has left me behind, he's never returned, he's never sent me a single word.
So I've stripped off my ornaments, jewels and adornments, cut my hair from my head.
And put on holy garments, all on his account, seeking him in all four directions.
Mira: unless she meets the Dark One, her Lord, she doesn't even want to live."
— Meera Bai
Legends also tell that the original city was built nearly 3000 years ago,
but was submerged by a tsunami, like Atlantis.
This was thought to be only a myth but there is now some evidence to support it. Recently, marine archaeologists have found temples structures on the seabed off the coast at Dwarka. The explorations conducted in the Gulf of Cambay waters revealed sandstone walls, a grid of streets and some evidence of a sea port 70 feet under water. The ruins go back at least 9 thousand years, i.e. to the time when the area submerged under water.
---
Let's visit!
---
Dwarkadeesh Temple
---
This majestic temple and pilgrimage centre stands by the Gomti river. According to legend, the original temple was built by Krishna's great-grandson Vajranabh nearly 2500 years ago.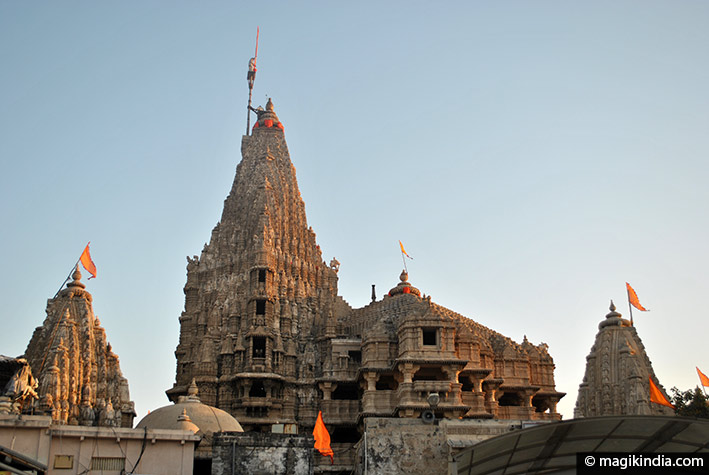 The temple was destroyed several times by Muslim armies, but was rebuilt each time. The existing temple dates from a reconstruction in 1730 and some parts from the 19th century.
Its five storeys are built of sandstone and supported by 60 finely carved columns. It is 52m tall at its peak and houses the deity Sri Ranchhodrayji, a form of Krishna.
---
Gomati Ghat
---
Gomati ghat is the Gomati river bank.One can spend endless hours sitting there but a stroll along the ghat at sunset is a moment of pure exaltation. 
Gomti Ghat is situated at the mouth of the river. A bath in these waters is believed to purge the soul. There are actually twelve ghats with many small temples all along, and shellfish vendors.
According to the sacred scriptures, the Gomati is the sacred Ganges itself, come down to earth. The river flows into the Oman Sea.
---
Sudama Setu (Sudama Bridge)
---
The new suspension bridge "Sudama Setu" connects the Gomti Ghat to the Pancha Kund and the beach. It is a 100m cantilever bridge like those in Rishikesh and it is reserved for pedestrians. The fee is of 10 roupies.
One the bridge one gets a panoramic view of Dwarkadish temple and of the Gomti river joining the Arabian sea.
On the other side of the bridge there is a small temple boasting 5 wells (pancha kund) considered to be sacred. Water from each of these kunds is said to taste different. On this side you can also enjoy the beach and camel rides are also available.
---
Rukmini Temple (2km)
---
Built in the 12th century and 2 km away from Dwarka, this temple with its delicate architecture is dedicated to the wife of Lord Krishna named as Rukmini. The idol is of white marble and it is continuously bathed with water that devotees offer as a 'Jal Daan' or water donation.
The outside of the temple is richly sculpted with naratharas (human figures) and gajatharas (elephants).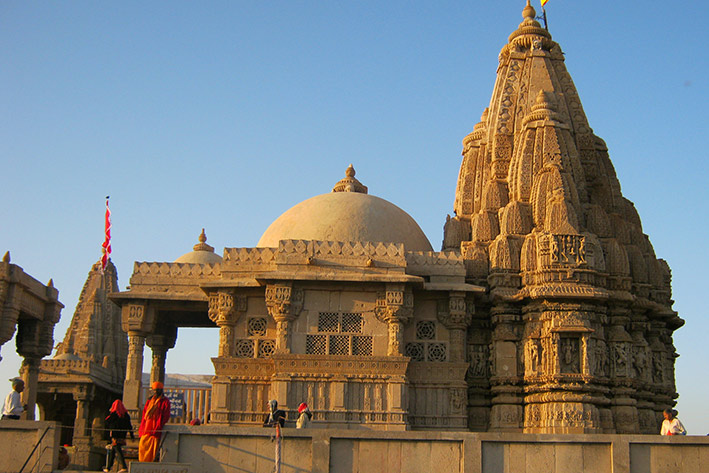 There is a legend to explain the separate dwelling temples, far away from each other, for Rukmini and her husband Krishna. It is said that at the request of sage Durvasa Krishna and Rukmini pulled a chariot taking sage Durvasa to their house for dinner. On the way, when Rukmini asked for water to quench her thirst, Krishna drew Ganges water, by prodding the ground with his toe, for her to drink. Rukmini quenched her thirst with the Ganges water. But Durvasa felt insulted as Rukmini did not have the courtesy to offer him water to drink. He, therefore, cursed her that she would live separately from her husband.
---
Bhadkeshwar Mahadev temple (2km)
---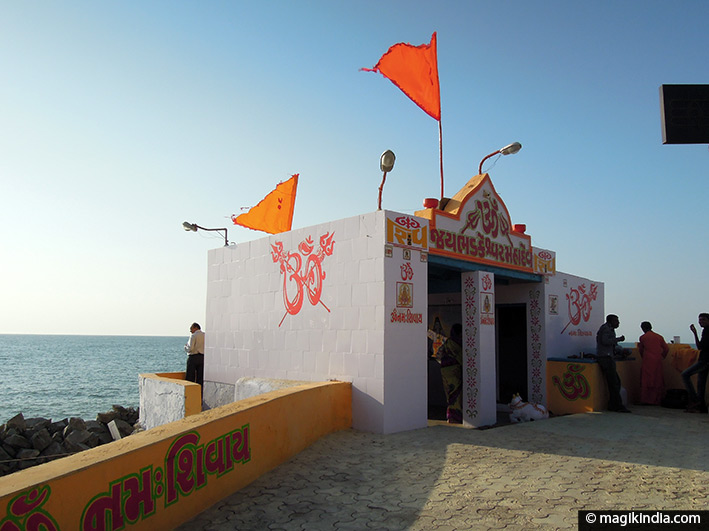 This temple to Shiva, 2km away from Dwarkadeesh temple, stands on a hillock in the sea, linked to the coast by a small bridge that is submerged at high tide.  It is one of the scenic temples to visit in Dwarka particularly at sunset.

Chandra-Mouliswar Shiva is the presiding deity in a form of a Swayambhu Lingam (self-manifested lingam).
---
Siddheshwar and Bhoothnath temples (1km)
---
Siddheshwar and Bhoothnath are small and ancient temples dedicated to the Hindu god Shiva and both containing Swayambhu Lingams.This place 1km away from Dwarkadeesh temple is not touristy and leaves you a peaceful feel. One of my favourite visit in Dwarka. 
At the entrance of the Siddheshwar temple stands a big banyan tree and a well with a hand pump. Many saddhus (hindu ascetics) gather around it. The temple boast a white Swayambhu lingam on which devotees perform abhishekams.
Bhoothnath temple stands close by Siddheswar temple.
---
Swaminarayan temple
---
One of the many temples built by the Swaminarayan mission. Richly decorated.
Its founder Sri Sahjanand Swami, known as Swaminarayan, preached non-violence, tolerance and impartiality between all religions, castes and peoples.
---
Nageshwar Jyotir Lingam (18km)
---
Nageshwar Temple, 12 miles to the northeast of the holy town of Dwarka, houses the "lord of cobras", one of the 12 Jyotir Lingams or "lingams of light".
The temple is way out in the countryside but can be seen from afar, particularly the huge 82-foot Shiva statue that watches over it…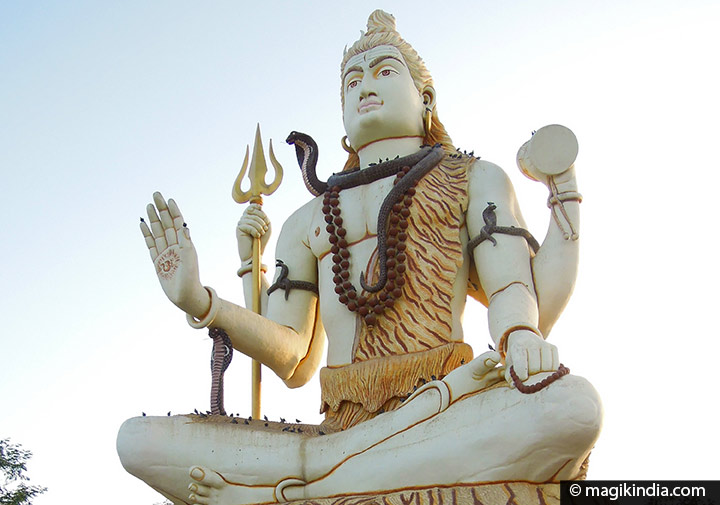 ---
Beyt Dwarka (30km)
---
Beyt Dwarka, also known as Beyt Shankhodhar, is a small inhabited island at the mouth of Gulf of Kutch situated 3km off the coast of Okha and 30km from Dwarka. It derived its name Shankhodhar as the island is a large source of conch shells (Shankh). Bet Dwarka can be reached by ferry service from Okha.
Bet Dwarka is believed to have been the actual residential place of Lord Krishna during his ruling years at Dwarka. The place derived its name from the 'bet' or 'gift' that Lord Krishna received at this place from his friend Sudama.
The archaelogical ruins excavated here and religious manuscripts correspond with Beyt Dwarka as the original abode of Lord Krishna.
Two main temples can be seen there: Sri Keshavrai ji Temple (Lord Krishna temple) and Hanuman Dandi, which boasts idols of Lord Hanuman and that of Makardhwaja (Hanuman's son).
Bet Dwarka has several smaller hindu shrines and two important Dargahs denoting Islamic faith.
The island also has a conglomeration of Jain temples.
---