Indian Desserts
Indian desserts, like the country itself, are colourful and infinitely varied. There are two kinds of desserts in India, those based on milk, like rasgula, rasmalai and burfi, and those based on flour, like gulab jamun, halwa and ladoo. Either way, there's no stinting on sugar and oil. 🙂
Here is a selection of some of the most popular desserts of India
Kheer / Payasam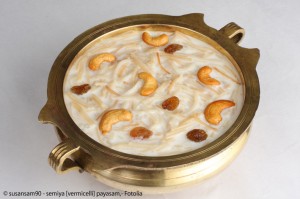 Kheer is a rice pudding made by boiling rice or broken wheat, tapioca, vermicelli with milk and sugar.
It is flavoured with cardamom, raisins, saffron, cashews, pistachios or almonds.
It is typically served during a meal or as a dessert. It is also known in some regions as payasam (South India).
Kheer is also served as an offering to the Gods in Hindu temples during rituals and ceremonies.
Gulab Jamun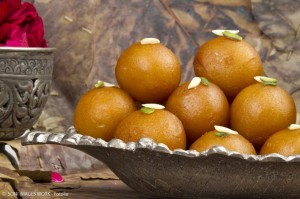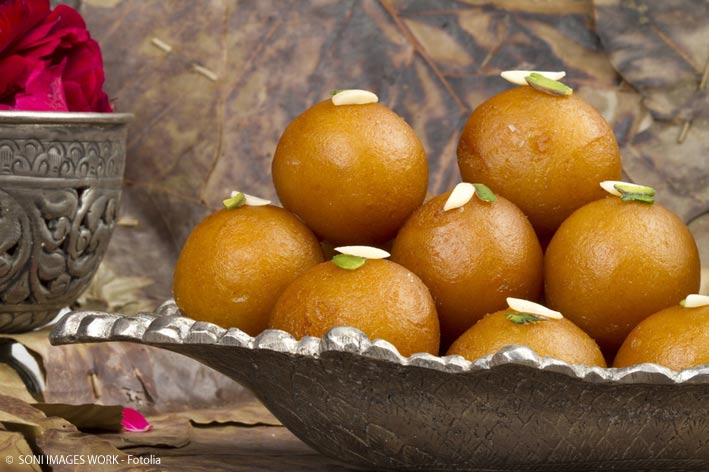 Gulab Jamun is one of the most popular desserts in India. It is a milk-solids-based dessert called khoya.
Milk solids are prepared by heating milk over a low flame for a long time until most of the water content has evaporated.
The khoya is then kneaded into a dough, sometimes with a pinch of flour, and then shaped into small balls and deep-fried at a low temperature of about 148 °C.
The balls are then soaked in a light sugary syrup flavored with green cardamom and rose water, kewra or saffron.
Gulab jamun is usually served at weddings and birthday parties.
Kulfi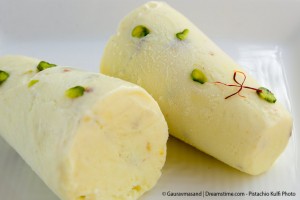 Kulfi is a popular frozen dairy dessert. It is often described as the indian ice cream.
As popularly understood, Kulfi has similarities to ice cream in appearance and taste; however it is denser and creamier.
Unlike Western ice creams, kulfi is not whipped, resulting in a solid, dense frozen dessert similar to traditional custard-based ice cream. It comes in various flavours.
The more traditional ones are cream (malai), rose, mango, cardamom (elaichi), saffron (kesar or zafran), and pistachio.
Ladoo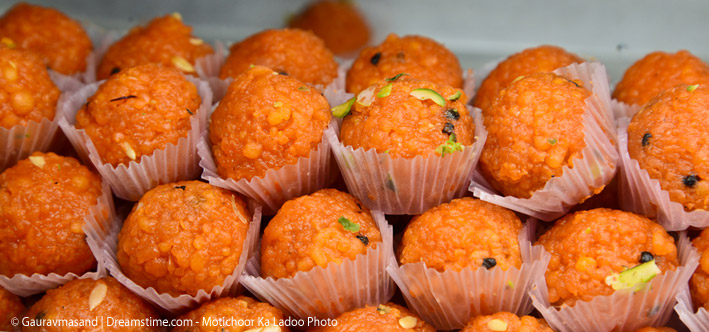 Another very famous dessert of India. Laddu or laddoo are ball-shaped sweets popular in all the Indian Subcontinent.
Common flours used for laddu include besan (chickpea flour), rava (wheat semolina) and ground coconut. These are combined with sugar and other flavorings, cooked in ghee and molded into a ball shape. Nuts such as pistachios and almonds are commonly stuffed into laddus.
Laddu is often prepared for festivals or family events such as weddings and births, or given as a prasad (sacred food) at Hindu temples, especially to Ganesha, the elephant-headed deity.
Burfi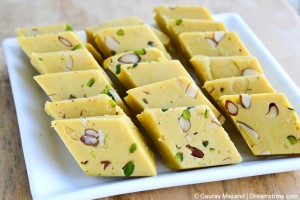 Barfi is a dense milk based sweet confectionery, a type of mithai. The name is a derivative of the Persian word barf, which means snow.
A few of the famous varieties of barfi include besan barfi (made with gram flour), kaaju barfi (made with cashews), pista barfi (made with ground pistachios), and sing barfi (made with peanuts).
The main ingredients of plain barfis include condensed milk and sugar. The ingredients are cooked in a vessel until the mixture solidifies.
Barfis are usually coated with a thin layer of edible metallic leaf known as vark.
The confection is served all year round, but especially consumed during the holiday seasons, wedding ceremonies, and the religious festivals like Diwali, the Hindu festival of lights.
Gajar Ka Halwa
Gajar ka halwa also known as gajrela is a sweet dessert pudding associated mainly with the North India.
There are many variations of gajar ka halwa, but its main ingredients are freshly grated carrots, milk, sugar, khoya (condensed milk), and ghee (clarified butter).
It is often served with a garnish of almonds and pistachios or cashew nuts which are first sautéed in ghee.
Rasgulla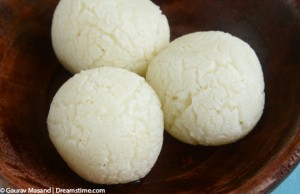 Rasgulla is a syrupy dessert made from ball shaped dumplings of chhena (an Indian cottage cheese) and semolina dough, cooked in light syrup made of sugar.
The dish originated in East India; the present-day states of Odisha and West Bengal are variously claimed to be the birthplace of the dish.
Chhena is created in a similar process to paneer cheese except it is not pressed for as long.
Jalebi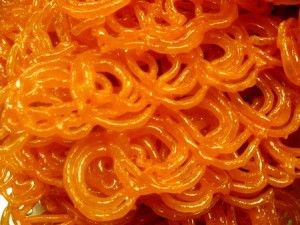 Jalebi, also known as Zulbia, is a very famous sweet throughout all India but also in the Middle East and Africa.
It is made by deep-frying a wheat flour (maida flour) batter in bretzel or circular shapes, which are then soaked in sugar syrup. They are particularly popular during Ramadan and Diwali.
[ Share 🙂 ]