Ahmedabad
Ahmedabad ("Ahmed's City"), boasts a rich heritage from its past as a merchant city. The old town and its many pols or districts with their finely carved mansions (havelis) bear witness to its former wealth. Adding to the city's aura are its memories of Mahatma Gandhi, who lived here when striving for India's independence.
Ahmedabad, renowned as a trading city since the days of the Muzaffarid and Mughal dynasties, has been called the Manchester of the East because of its role in the textile industry.
Its story begins in the 11th century C.E. when King Solanki Karandev I built a city called Karnavati on the banks of the Sabarmati river. In the 15th century the town was renamed Ahmedabad after Ahmed Shah of the Muzaffarid dynasty, who based his sultanate there.
Ahmedabad is also renowned for the part it played in India's fight for independence. It was from at his ashram here that Mahatma Gandhi launched the Salt March in 1930, and developed his ideas for independence.
---
Festivals not to miss
---
Uttarayan Kite Festival

Uttarayan, the time of year when the sun starts its northward journey, is celebrated in Gujarat state with a kite festival that's totally poetic. All day long thousands of multi-coloured kites drift endlessly across the sky, and when night falls the firmament is lit by a myriad paper lanterns…
Navaratri & garba dance
---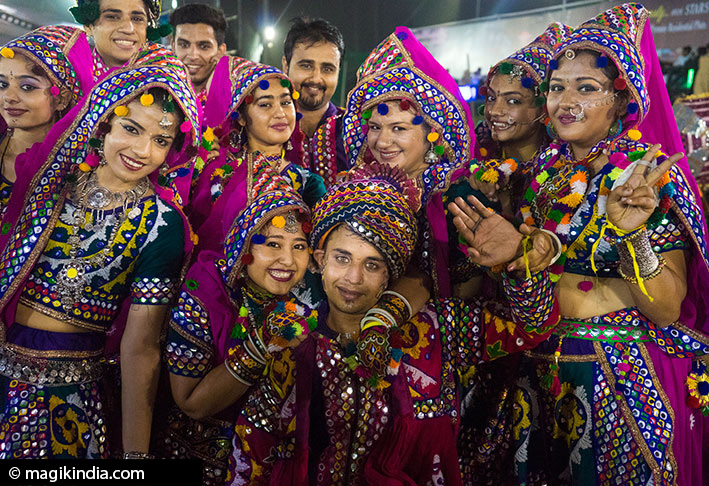 Navaratri, along with Mahashivaratri, is one of the leading Hindu festivals, celebrated with great fervour throughout India. Its purpose is to celebrate the Universal Mother, or Shakti: the primordial force. During that festival special forms of dances are performed like Garba which originate from Gujarat. A riot of colours and fun, absolutely not to miss!
---
Follow the guide!
---
Old town, Pols, Havelis and Chabutros
Ahmedabad owes its charm to its historic centre, the old city built nearly 600 years ago. Its old pols are like quiet refuges in the heart of this restless city. Here you can stroll at ease and admire the havelis (private mansions) with their intricately carved façades.
A pol is a housing cluster inhabited by numerous families of a particular group, linked by caste, profession, or religion. The word comes from the Sanskrit pratoli meaning gate or entrance. Originally the pols were built as a protective measure in time of communal riots. A typical pol would have only one or two entrances apart from some secret entrances known only to its inhabitants.
Walking around you will see many chabutros – tall, carved wooden pigeon-feeding structures typical of Gujarat towns. Hindus consider it auspicious to feed birds and think it brings good 'karma'.
You are also sure to venture into the heart of the old town and see the busy Manek chowk and the famous Jumma Masjid mosque (see details below).
---
Jumma Masjid Mosque (old town)
The Friday mosque in the town centre is the oldest and most elegant in Ahmedabad.
The yellow sandstone mosque complex, constructed in 1424 in the reign of Ahmed Shah, is built around a large rectangular courtyard. The main prayer hall boasts 260 columns supporting the roof with its 15 domes.
---
Kala Ramji Temple (old town)
A narrow lane in the Haja Patel Ni Pol district leads to a unique temple built over 300 years ago.
Its special feature is a statue of the Hindu god Rama made of black marble and showing him seated in the lotus posture or Padmasana. There is one other statue like this, in Nasik.
It is said that the statue was installed in the Kala Ramji temple by Brahmans (priests) from Dwarka 400 years ago. According to legend, it reappeared miraculously in 1947, hundreds of years after the temple priest had hidden it to protect it from the Mughal invasion.
The temple itself is a beautiful piece of haveli architecture with delicately carved columns and angles.
---
Manek Chowk (old town)
With its gold and jewellery market and eateries, Manek Chowk never sleeps. The jewellers stay open far into the night – as a means of avoiding burglaries as far as possible, so it's said.
The area is particularly lively and friendly in the evening, when families and groups of friends gather to enjoy a few local chaats (snacks).
In the same area:
Badshah no Hajiro, the tomb of Ahmed Shah, founder of Ahmedabad where the male members of the royal family were also buried and Rani no Hajiro ("tomb of the queen"), where the female members of the royal family were buried.
Ahmedabad Stock Exchange Building. Built in 1894 in a style that's elaborate but clearly British, it is India's second-oldest stock exchange after Mumbai.
---
Swaminarayan Kalupur Temple
This colourful temple in the Kalupur district, built in 1822, was the first temple of a Hindu movement called Swaminarayan Sampraday.
Its founder Sri Sahjanand Swami, known as Swaminarayan, preached non-violence, tolerance and impartiality between all religions, castes and peoples.
The main temple consists of three sanctuaries: one dedicated to Radha and Krishna on the left, on to Nar and Naravan in the middle, and one with a gilded stature of Swaminarayan and his parents on the right. It is surrounded by richly carved havelis built of Burmese teak where the monks and nuns live.
---
Siddi Saiyed Mosque
This small mosque, built in the late 16th century by a slave of the sultan Ahmed Shah, is known for its beautiful carved stone latticework windows (jalis).
The most famous, in the mosque's rear wall, each depict a magnificent tree of life.
---
Jain Hatheesingh Temple
The Hatheesingh jain temple was built in 1850 and it os dedicated to Dharmanatha, the 15th Tirthankar (Jain saint).
It is named after its founder Seth Hathee Singh, a prosperous Jain trader. It is an architectural wonder in white marble, built on two floors.
---
Calico Museum of textiles
The Calico Museum is the country's largest textiles museum and is famous the world over for its remarkable collection of fabrics and artefacts and comprehensive coverage of Indian handloom fabrics over five centuries.
This museum is a definite must-see, even if the opening hours and obligatory guided tour are rather restricting.
---
Gandhi's Sabarmati Ashram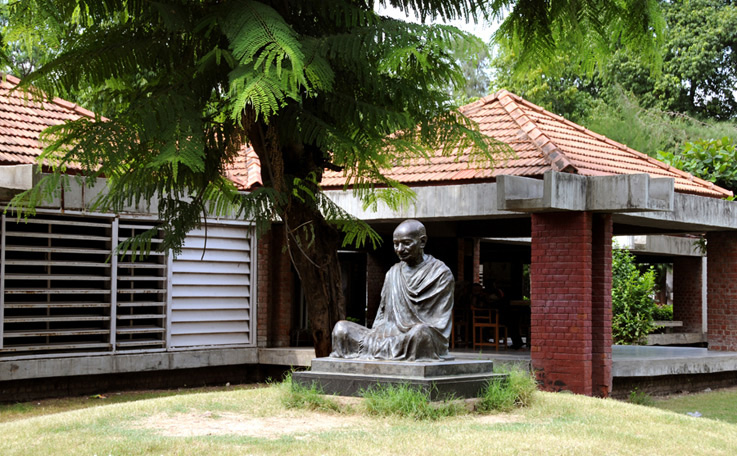 Sabarmati ashram in a northern suburb of Ahmedabad was built in 1915 and originally known as the Satyagraha Ashram.
Gandhi settled here on his return from South Africa, and this is where he developed his ideas for Indian independence and launched his civil disobedience campaign with the Salt March.
The ashram is now a memorial museum recounting the life of Gandhi. It holds a major collection of manuscripts and a few of the great man's belongings.
=> Ashram Sabarmati 
---
Kankaria Lake

Kankaria is an artificial lake in south Ahmedabad, originally known as Qutb Hauz, was built by sultan Qutbuddin in the 15th century. The sultans used it for bathing.
It has now been turned into an amusement park with a little train, a zoo and a waterside park among other diversions.
---
The Dada Harir Vav step well (3km)
This remarkable step well 3km from the town is one of Ahmedabad's most visited sights, and for good reason. It was built in 1485 by the Muslim sultan Bai Harir.
Step wells – vav in Gujarati – were an essential feature of life in semi-arid Gujarat. They gave local people and merchant caravans access to water however high or low it might be in the well, and provided a cool place to gather and hold festivities.
---
Gandhinagar (20km)
Some 20km from Ahmedabad, is the capital of Gujarat State. This is where the Gujarati government institutions and administrative buildings are. It is a new town and of little interest to tourists apart from the Akhshardham and Trimandir-Simandhar temples.
The Akhshardham temple is one of the largest in Gujarat. It is built of pink stone, decorated with fine carvings and surrounded by magnificent gardens with fountains.
The Trimandir-Simandhar is the huge temple of a non-sectarian Hindu movement funded by Dada Bhagwan Parivar. It is a two-storey building with a vast hall on the ground floor where the gods of Jainism, Vishnuism and Shivaism are worshipped on equal terms.
---
Nalsarovar bird sanctuary (64km)
Nalsarovar is one of the largest bird sanctuaries in Gujarat, covering 120km2.
The lake and wetlands are home to 200 species of bird and an equally rich aquatic flora with no fewer than 70 varieties of aquatic flower.
In winter large numbers of migrating birds such as pelicans, pink flamingos, storks and cormorants congregate here.
Visitors take a two-hour boat tour to discover the wealth of biodiversity around the lake – a moment of quiet serenity, far from the hubbub of the city.
---