Indian Snacks
Indians love snacking and there are snack stalls on every street corner. Here are a few examples of the infinite variety you can find.
Chaat
Chaat is a term describing savory snacks, typically served at road-side tracks from stalls or food carts.
The chaat variants are all based on fried dough, with various other ingredients.
There are common elements among these variants including potaoes, dahi, or yogurt; chopped onions and coriander; Sev (small dried yellow salty noodles); and chaat masala, typically consisting of amchoor (dried mango powder), cumin, Kala Namak (rock salt), coriander, dried ginger.
Pakora
Pakora also called pakoda, is a fried snack (fritter).
Pakoras are created by taking one or two ingredients, such as onion, eggplant, potato, spinach, plantain, paneer, cauliflower, tomato, or chili pepper and dipped in a batter of gram flour and then deep-fried.
Pakoras are usually served as snacks or appetisers complemented with tamarind chutney, brown sauce, or ketchup.
Samosa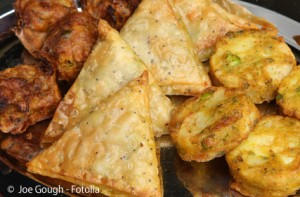 Samosa is a fried or baked pastry with a savoury filling, such as spiced potatoes, cheese, onions, peas, lentils.
Its size and consistency may vary, but typically it is distinctly triangular in shape.
Indian samosas are usually vegetarian, and often accompanied by a mint sauce or chutney.
Kachori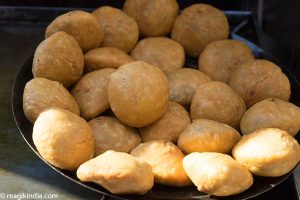 Kachori is a spicy snack popular in various parts of North India.
It is usually a round flattened ball made of fine flour filled with a stuffing of baked mixture of yellow moong dal or Urad Dal (crushed and washed horse beans), besan (crushed and washed gram flour), black pepper, red chili powder, salt and other spices.
Kachoris are often served with a chutney, often made from tamarind, mint, or coriander.
Paneer Tikka
Paneer tikka is an Indian dish made from chunks of paneer (kind of cottage cheese) marinated in spices and grilled in a tandoor.
It is a vegetarian alternative to chicken tikka and other meat dishes.
It is a popular dish that is widely available in India. It is sometimes accompanied by salad and mint chutney.
Mirchi Bajji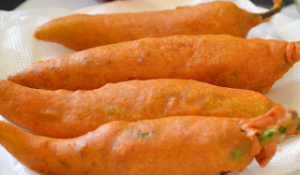 Mirchi Bajji is a spicy Indian snack consisting of chili (Mirchi) and potato stuffing.
The mirchi bada of Jodhpur, Rajasthan is very famous combines well with another Jodhpur speciality, 'Mawa Kachori' dipped in sugary syrup.
It served hot with tomato sauce or occasionally with mint and tamarind chutney.
Panipuri
Panipuri is a famous street snack found in several regions of India.
The English meaning of Panipuri is "water bread". It consists of a round, hollow puri, fried crisp and filled with a mixture of flavored water (pani), tamarind chutney, chili, chaat masala, potato, onion and chickpeas.
Cutlets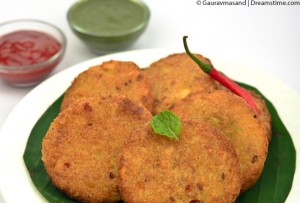 Cutlets are croquettes which is basically a serving of minced meat or vegetables, encased in breadcrumbs and potatoes, flattened into disks, and then deep-fried.
The croquette was originally a French invention that gained a world-wide popularity as a fast-food with the advent of burgers.
In India, it is known as "cutlets" or "aloo-tikkis". They are served with ketchup or green chutney (coriander chutney).
Pav Bhaji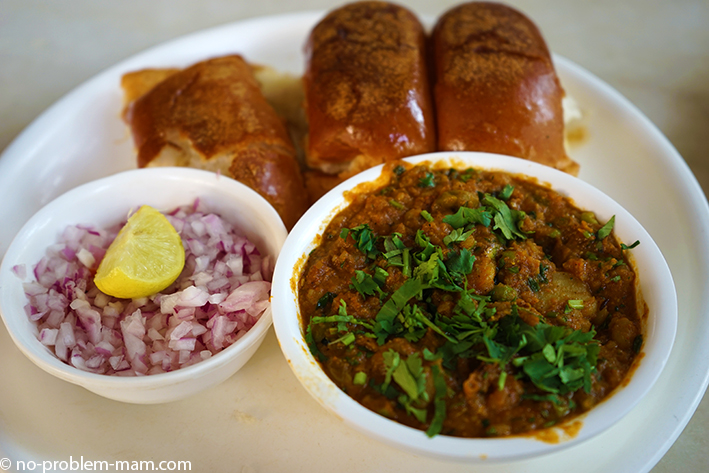 Pav bhaji is a fast food dish from Maharashtra, India, consisting of a spicy curry of mixed vegetables (bhaji) cooked in a special blend of spices and served with soft buttered pav (bread bun shallow fried in butter).
Pav bhaji is more than a mere snack, it's a quick meal that can be grabbed on the go.
Dhokla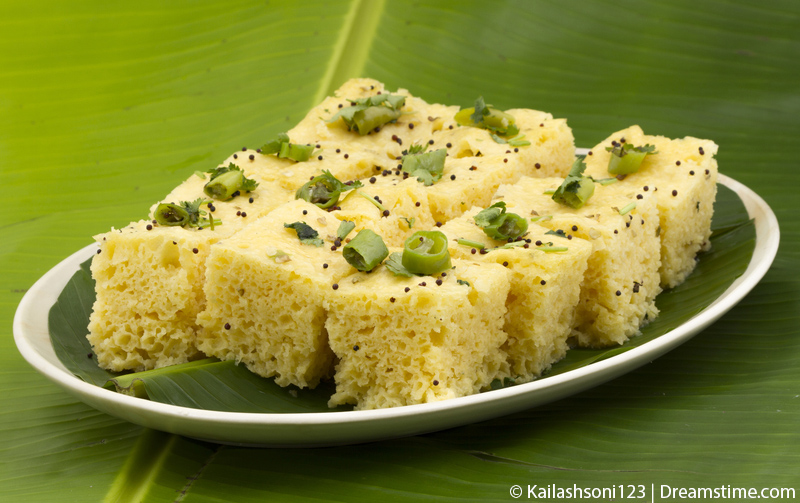 Dhokla originates from the Indian state of Gujarat. It is made with a fermented batter derived from rice and split chick peas.
Dhokla can be eaten for breakfast, as a main course, as a side dish, or as a snack. It is usually served with deep fried chillies and chutney made of coriander.
It is garnished with coriander and often with grated coconut.
Namkeens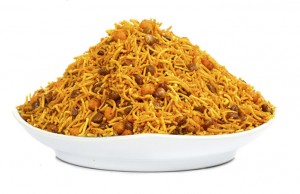 Namkeen is the Hindi word used to describe the savory flavor.
It is derived from the word Namak (meaning salt). Namkeen is also used as a generic term to describe savory snack foods.
Namkeens are usually a mixture of spicy dry ingredients. There is an infinite variety of them and are known by different names according to the states.
The namkeens are most often made from gram flour (besan) but also puffed rice, potatoes or legumes.
[ Share 🙂 ]