Chitrakoot
People don't come by chance to this 'city of wonders'. Chitrakoot is a busy, buzzing pilgrimage town vibrating to the sound of the mantra 'Ram Ram Sita Ram'. The legend goes that Lord Rama, his wife Sita and his brother Lakshmana spent 11 years in exile in the dense forests of Chitrakoot. In ancient time many saints and poets chose this place too as their home.
Chitrakoot is divided between two districts, Chitrakuta in Uttar Pradesh and Satna in Madhya Pradesh. All around it are luxuriant forests and rivers.
---
The Legend
---
The town is intimately connected with the Ramayana, the epic of the god Rama – and, more specifically, his years in exile.
It is told that King Dasaratha, ruler of Ayodhya, was getting old. He felt it was time for one of his sons to take his place. Rama had a special place in the old king's heart, so the kingdom of Ayodhya was granted to him.
The king's youngest spouse Kaikeyi had a lady-in-waiting called Manthara, who was afraid to lose her place at court.
She went to see her mistress and shared her troubles with her: "If Rama becomes king," she said, "his mother will take control of the kingdom and you will have no power in the palace at all." This sowed doubt in Kaikeyi's mind. She went to see Dasaratha, reminding him of a promise he had made a few years earlier after she had saved his life. She asked him to put her son Bharata on the throne and send Rama into exile for at least 14 years.
The king was an honest man. He could not go back on his word, so he reluctantly agreed to the young woman's request.
Rama could not disobey his father; before he left, he made sure that the throne came to Bharata as agreed. Rama's wife Sita and his youngest brother Lakshmana could not bear to see him leave alone and decided to go with him into exile. Bharata, who was devoted to Rama, refused to rule and begged Rama to come back, but Rama refused. So Bharata ruled the kingdom in Rama's name.
---
Follow the guide!
---
Ram Ghats
---

The Chitrakoot ghats along the River Mandakini are called the Ram Ghats.
They are considered sacred because they are supposed to be on the exact spot where Sita and Ram stopped to bathe.
An aarti (flame ceremony) takes place there at about 6.30pm; you can watch it from a small boat.
---
Kamadgiri
---
Kamadgiri is Sanskrit for "wish-fulfilling mountain", and Kamadgiri is a place of great spiritual importance for worshippers of Rama.
It is thought to be the original site of Chitrakoot and the place where Ram, Sita and Lakshmana lived during their exile. The wooded hill is even regarded as an incarnation of Rama. The faithful perform a pilgrimage in the form of a parikrama or circumambulation of the hill, walking barefoot round the 5km paved path. Before they start they the worship Ram in the form of Kamtanath in the temple of that name.
Dotted along the path round the hill there are temples – and stalls selling food or souvenirs.
One of the most important temples is Bharat Milap. It marks the place where Bharat is said to have found Rama again to persuade him to take over the throne of Ayodhya, the two brothers' footprints bearing witness to the event.
---
Gupt Godawaree
---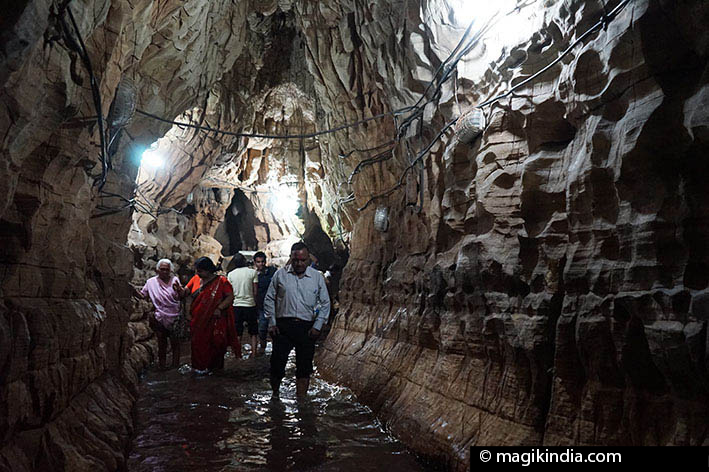 Gupt Godawari is a surprising place with two sacred caves, one reached by a narrow passage and the other along the bed of a river.
To reach the small Rama temple you have to walk through knee-deep water along corridors in the rock.
It is said that Rama and his brother Lakshmana had their headquarters here; when they left, they left two throne-shaped rocks.
---
Hanuman Dhara
---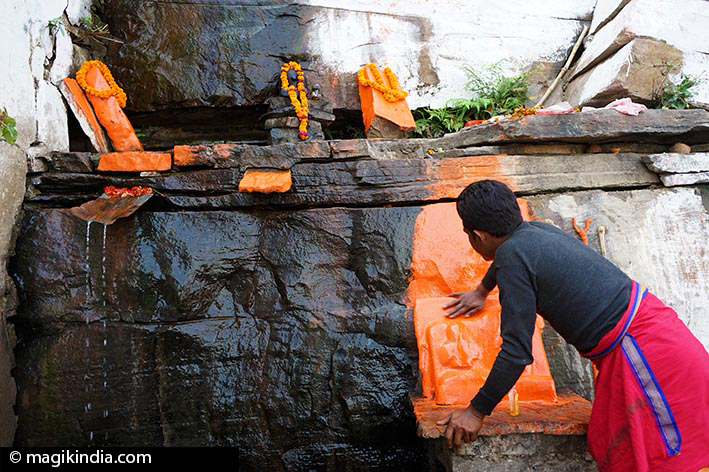 It is said that these Hanuman Dhara temples on the hillside were created by Rama as a place for Hanuman to rest and regain his strength on his return from Sri Lanka.
Rama shot an arrow into the hillside; a stream sprang out, giving Hanuman relief. In one of the temples this stream flows gently over a Hanuman idol into a pool below. Visitors climb 500 steps to reach the temples. The view is superb.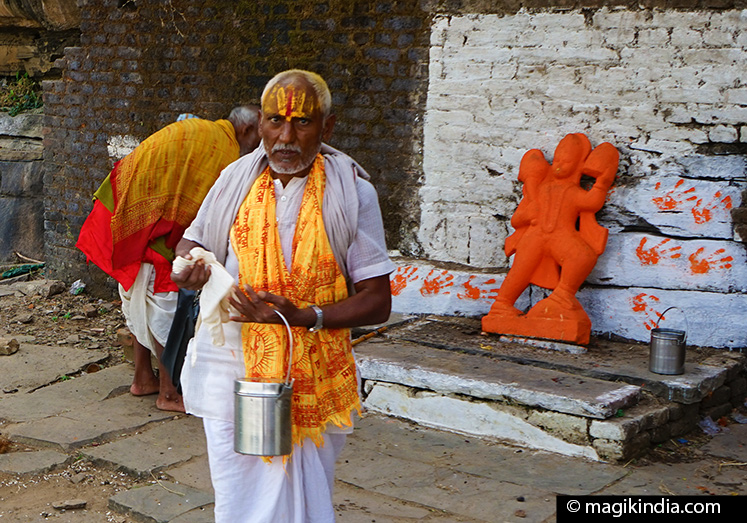 ---
Janki kund
---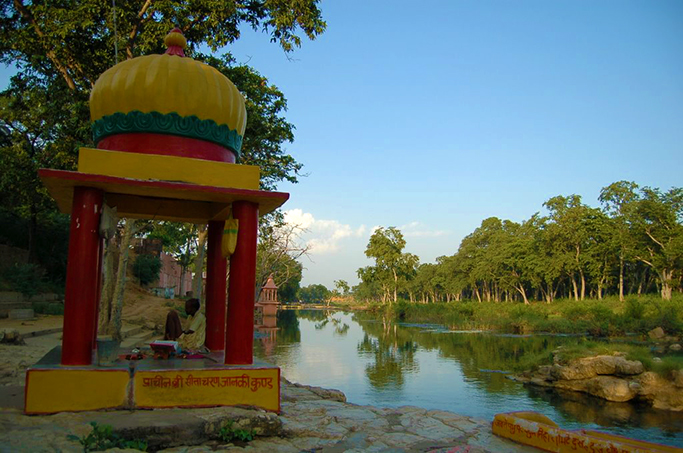 Janaki Kund is 2km south of Chitrakoot on the banks of the river Mandakini.
The name Janaki Kund means "Sita's pool". According to legend it was Sita's favourite bathing place during her years of exile with her husband Rama. It is said that her footprints are imprinted on the rocks here.
Pilgrims believe that bathing here brings good luck.
---
Sati Anasuya Ashram
---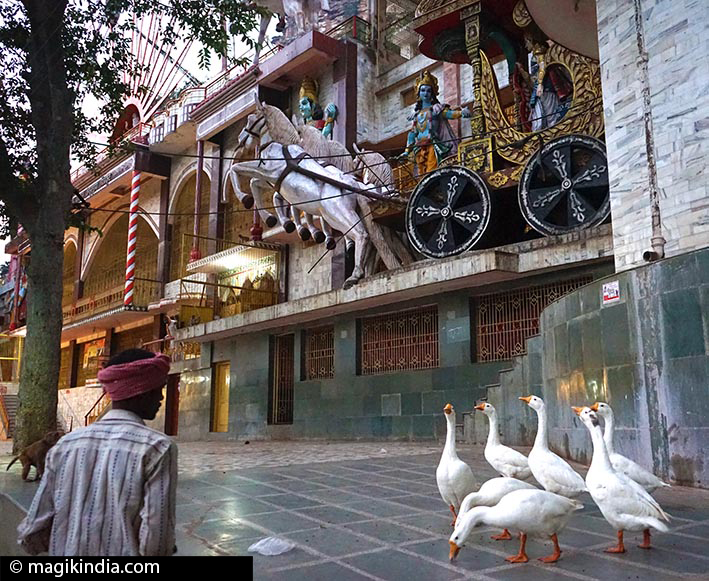 The Sati Anasuya Ashram is located beside a stream, in a peaceful, bucolic area. It is dedicated to Sati Anusuya, wife of the great sage Atri.
It is told that the sage Narada Muni sang the praises of her purity and devotion. This made the goddesses Durga, Laxmi and Saraswati mad with jealousy so they sent Shiva, Vishnu and Brahma, their respective husbands, to test Anusuya.
The divine trinity took the form of three Brahmans and asked Sati Anusuya to feed them, but to do so naked. To fulfil their wish without losing her virtue Anusuya used her powers to change the three men into three babies before she fed them. Seeing this, the three goddesses came to excuse themselves and asked Anusuya to return their husbands to them. When the three gods regained their original forms, they blessed Anusuya with three sons.
Ever since, Sati Anusuya has been worshipped as a symbol of virtue and devotion. The temple stands on the site where Sati Anusuya is supposed to have lived with her three sons.
It is said that Anusuya created the river Mandakini after meditating.
---
Sphatic Shila
---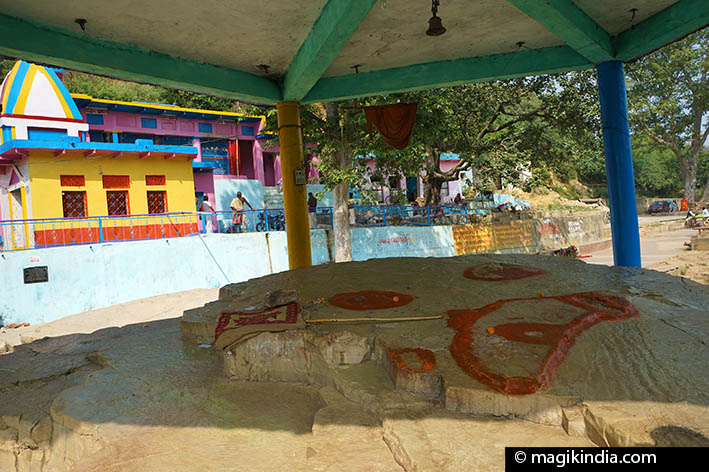 Sphatic Shila is another peaceful place by the river Mandakini, with several temples and a rock (shila) bearing Rama's footprints.
---
Bharat Koop
---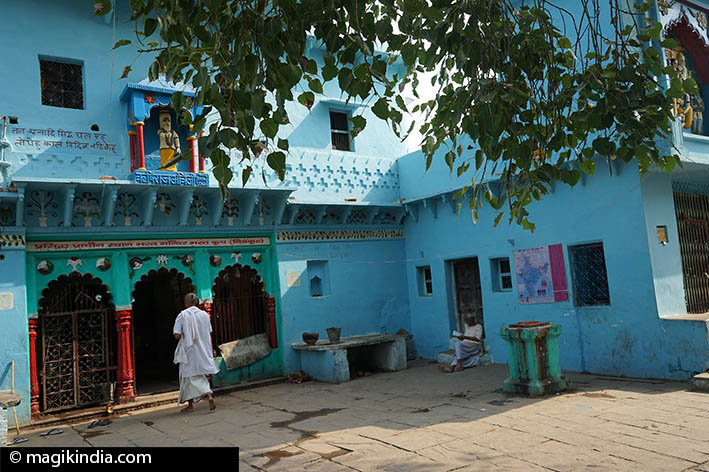 Bharat Koop, a few kilometres from Chitrakoot, is another legendary place, with two colourful temples around a sacred well.
The legend goes that when Bharat came to see Rama at Chitrakoot to persuade him to come back to Ayodhya, he brought with him water from five sacred rivers to perform an abhishekam (ritual) for Rama.
When Rama refused to come back, Bharat asked the sage Vashisht how best to use the holy water. Vashisht told him to store the water in a well not far from Chitrakoot. The water of this well would always remain pure and would be venerated to the end of time.
---
Ganesha Bagh
---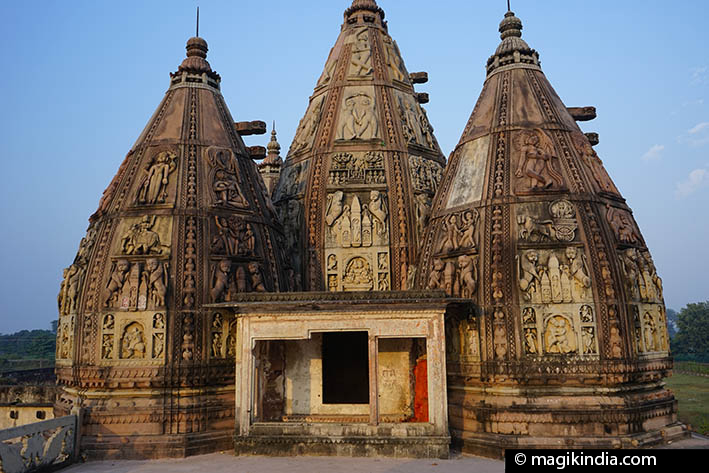 Ganesh Bagh near Chitrakoot is a royal garden built by the king Vinayak Rao as a summer retreat for his sporting activities. The temple is dedicated to Shiva. At the entrance is a stepwell or baoli, unfortunately in a very dilapidated state.
---