Kumbhalgarh Fort
India's Great Wall of China! On the road to Jodhpur, 80km from Udaipur, an imposing construction stands on a hilltop 1100m above sea level. This is Kumbhalgarh fort, a World Heritage site. Its boundary wall, extending over 36km, is the second-longest continuous wall in the world after China's Great Wall, and also the second largest fort in Rajasthan after Chittorgarh.
The fort was begun in the 15th century by Rana Kumbha; it took over a century to construct the wall and it was later enlarged in the 19th century.
Kumbhalgarh separated Mewar and Marwar regions from each other and was used as a place of refuge for the rulers of Mewar at times of danger. The fort remained impregnable to direct assault, and fell only once, due to a shortage of drinking water, to the combined forces of Mughal Emperor Akbar, Raja Man Singh of Amber, Raja Udai Singh of Marwar, and the Mirzas in Gujarat.
Kumbhalgarh is also the birthplace of Maharana Pratap, the great king and warrior of the Mewar region.
According to legend, Rana Kumbha had failed a number of times in his efforts to build the wall of the fort.
A priest advised him to make a human sacrifice and build his fort in the place where the sacrificial victim's head fell. A pilgrim (a soldier in some versions) volunteered to be beheaded.
A temple to the memory of the sacrificial victim still stands at the fort entrance (Hanuman Pol).
Inside the fort there is a small village and numerous temples. It is said that originally there were over 400. Sixty or so of the temples are Hindu, all the others were built for the followers of Jainism. Only Neelkhanth Mahavev temple with its 2m tall Shiva Lingam is still functioning.
---
Kumbhalgarh Fort Festival
---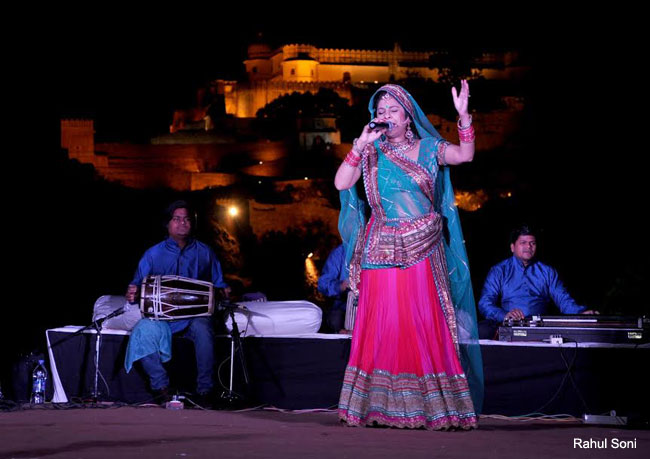 This Festival is the place where renowned classical and folk musicians, artists and dancers assemble and give their best performances.
Among the highlights of this festival includes the dance and singing performance by local artists.
At the daytime, there are workshop like yoga and some competitions for tourists and kathputli show (puppet of Rajasthan). Evening in Kumbhalgarh is an amazing explosion of sound, light, colour and dance.
=> READ MORE ABOUT RAJASTHAN FOLK MUSIC

---