Udupi
Udupi, 60km from Mangaluru, is best known for its famous temple devoted to Krishna, one of the incarnations of the hindu god Vishnu. It is an important pilgrimage place and it has also given its name to a renowned style of Indian cooking.
Vaishnava Shri Madhvacharya
Krishna Mutt ("the temple of Lord Krishna") was founded by Vaishnava Shri Madhvacharya, the philosopher-sage from whose thinking the dvaita branch of Vaishnavism derives.
Vaishnavism is one of the main branches of Hinduism, along with Shaivism and Shaktism. It is based on veneration of Vishnu or one of his divine incarnations. Vaishnavites, or devotees of Vishnu, practice a monotheistic devotional form of religion whose practice is called bhakti-yoga.
Madhvacharya thought that Vishnu was not just one deity among others but was Ishvara, the Supreme Being. Vishnu is the main object of veneration, the other deities being regarded as subsidiary.
Krishna Mutt temple is part of a complex administered by eight mathas (monasteries) in turn. These mathas are Pejavara, Puttige, Palimaru, Adamaru, Sodhe, Kaniyooru, Shirur and Krishnapura.
Krishna Mutt – Krishna Temple
Udupi temple is the first of seven Mukti Kshetra pilgrimage sites in Karnataka, the others being Kukke Subrahmanya, Kumbhashi, Kodeshwara, Shankaranarayana, Kollur and Gokarna. They are also called the Parashurama Kshetras, after the sixth avatar of Vishnu.
What is unique about this temple is that the idol can only be worshipped through a gold-plated window called Navagraha Kitiki with nine small openings through which the idol can be glimpsed.
Legend has it that Madhvacharya used his divine powers to save a ship caught in a storm. The ship was from Dwarka, Lord Krishna's city, and was carrying a Krishna idol. To thank the saint who had saved them, the captain gave him the statue. After performing some special rituals, Madhvacharya placed it in the temple where it still stands.
Udupi Cuisine
Udupi has also given its name to a style of Karnataka cooking created by Madhvacharya of the Krishna Mutt.
It is a strictly vegetarian cuisine in the Satvic tradition, which not only uses no meat, fish or shellfish but uses no garlic or onions either. It uses mainly grains, pulses, vegetables and fruit, and relies on whatever is in season and available locally.
The vegetables commonly used in Udupi cooking are squash, yam, cucumber, beans and various green vegetables. Common Udupi recipes include Kosambari (lentil salad), Koddelu (sambar, or lentil and vegetable stew with tamarind), Avalakki Upkaari (made from rice flakes, with chilli) and Holige (a sweet pancake). It is said that the very famous South Indian dish Masala Dosa was originally created in Udupi.
Sri Ananthesvara Temple
Near Krishna Mutt stands Sri Ananthesvara temple, dedicated to Shiva.
The temple's structure is unique and resembles temples in the neighbouring region of Kerala. There are many legends associated with it.
One tells that the Pandavas built the temple in one night when they were in exile.
Another tells that Sri Madhvacharya disappeared while performing penance here. The place where he vanished has become the inner sanctum and it is customary for worshippers to light oil lamps when they enter.
The sanctuary idol is a Lingam composed of two types of rock cemented together by a lime mixture.
Festivals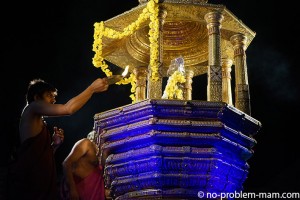 Rathothsava, the chariot festival: The Krishna Mutt possesses three chariots, or floats. The largest is called Brahma Ratha, the medium one Garuda Ratha and the smallest Chikha Ratha. At the main Hindu festivals smaller replicas of the main statue of Lord Krishna called an Utsava Moorthi are placed on the floats, which are then pulled through the streets by the faithful.