20 absolute must-see places in Gujarat
Gujarat is a state in northwest India. On the north side it shares a border with Pakistan. Although not yet very popular with tourists, the region is not without attractions. There are pilgrimage centres like Palitana, Dwarka, Somnath, Siddhpur and Mount Girnar; there are archaeological sites at Champaner and Patan; and there is the Rann of Kutch, a unique and fascinating salt desert. The Forest of Gir in Gujarat is home to the last surviving Asian lions.
---
The main attractions in Gujarat
---
1 – Ahmedabad
---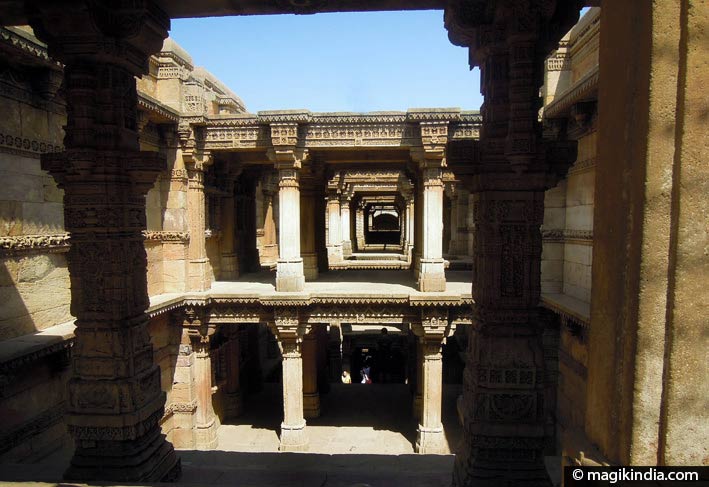 "Ahmed's City" boasts a rich heritage from its past as a merchant city. The old town and its many pols or districts with their finely carved mansions bear witness to its former wealth. Adding to the city's aura are its memories of Mahatma Gandhi, who lived here when striving for India's independence…
KNOW MORE ABOUT IT
---
2 – Rann of Kutch
---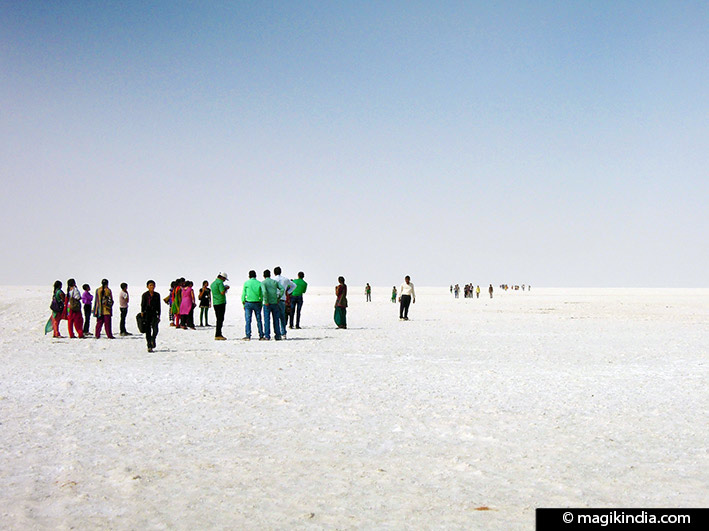 The Rann of Kutch is one of the world's largest salt deserts, a bright, white vastness interrupted only by touches of colour of tourists. It is a sight absolutely not to be missed. As with all deserts, there is nothing in particular to see, just the beauty of infinity to admire…
KNOW MORE ABOUT IT
---
3 – Bhuj
---

Traces of the 1956 and 2001 earthquakes are still evident but they cannot spoil the charm of Bhuj. This small town, once the capital of the Kutch region, is a great place to stop on the way to the famous Rann of Kutch..
KNOW MORE ABOUT IT
---
4 –  Patan
---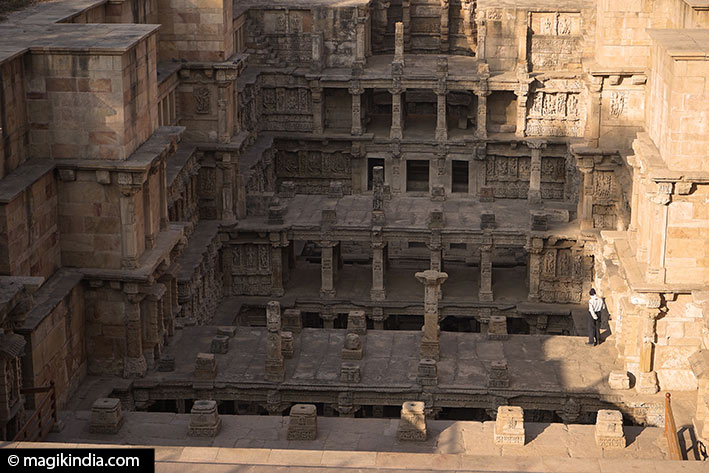 Patan is a fortified town dating from the 8th century CE. It was the capital of Gujarat until 1411, when the sultan Ahmed Shah moved his capital to Ahmedabad. It now owes its fame to its magnificent Rani-Ki-Vav stepwell, a Unesco World Heritage site, built under the Solanki period. It is also renowned for making much-sought-after saris in hand-woven patola fabric…
KNOW MORE ABOUT IT
---
5 -Modhera
---

Modhera is a land of legend. It is said that after god Rama had vanquished Ravana in Sri Lanka, He and his spouse Sita stopped here on their way home, so it is not surprising that the Solanki sovereigns should have chosen this holy ground to build a magnificent and wholly unique sun temple…
KNOW MORE ABOUT IT
---
6 – Vadodara
---

Vadodara, also known as Badora, is Gujarat's third-largest town, a fast-growing industrial town but also a cultural capital. Although tourists come mainly for the magnificent Champaner-Pavagadh archaeology park nearby there are a number of sights worth stopping in town for…
KNOW MORE ABOUT IT
---
7 – Champaner – Pavagadh
---

Champaner is a unique place, way out in the countryside, where you'll find the vestiges of a town that was the capital of Gujarat state in the 15th century and a number of older archaeological remains. Champaner is now listed as a World Heritage site. It is also one of the 51 Shakti Peethas, and the life of the place today is centred on Pavagadh Hill to which thousands of pilgrims flock each year to pay homage to the goddess Kali…
KNOW MORE ABOUT IT
---
8 – Palitana
---

This incredible temple complex perched on Shatrunjaya Hill seems to touch the sky. The 3500 steps that lead to them take you on an inner journey while giving you time to enjoy the beauty of the landscape…
KNOW MORE ABOUT IT
---
9 – Diu
---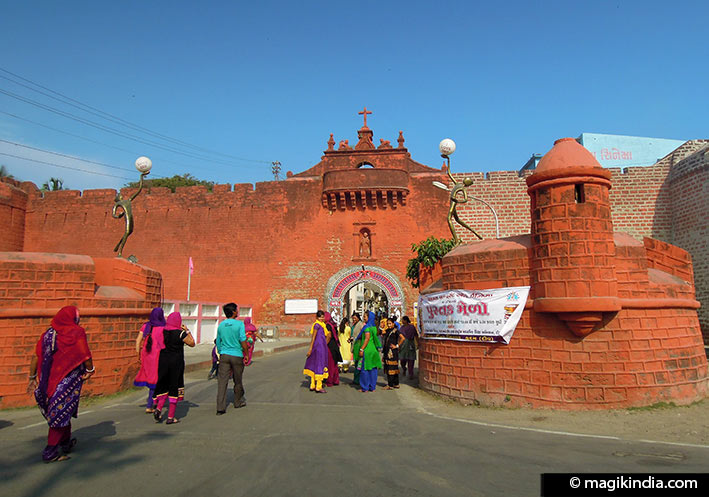 Diu is a charming small town on the coast, decked with baroque churches and blue-and-white fronted houses, reminding us that a few hundred years ago Portuguese caravels moored nearby…
KNOW MORE ABOUT IT
---
10 – Mount Girnar
---

Mount Girnar is an undisputed must-see while you're in Gujarat. Climbing the 9999 steps to its summit leaves an imperishable memory. The atmosphere is serene and the views are breathtaking…
KNOW MORE ABOUT IT
---
11 – Dwarka
---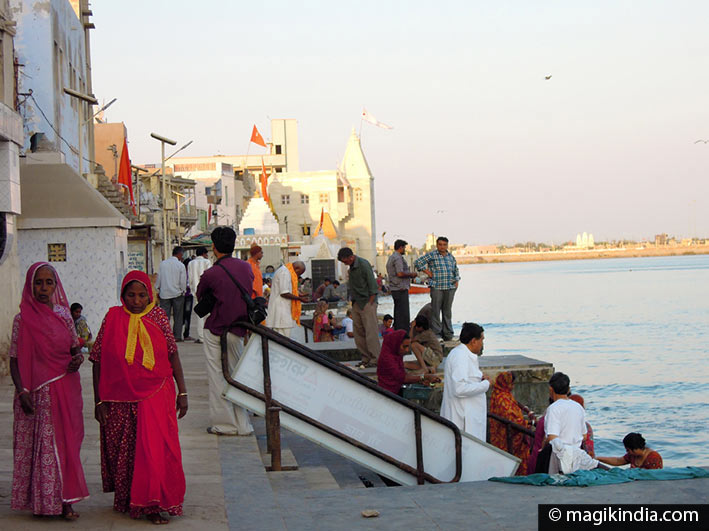 The holy city of Dwarka is a peaceful little town beside the Oman Sea where it's nice to just laze around, especially along the ghats at sundown when the shellfish vendors gather there. Dwarka tells you about Lord Krishna's story who founded his kingdom here, and how the mystic poetess Mirabai spiritually united with him…
KNOW MORE ABOUT IT
---
12 – Nageshwar
---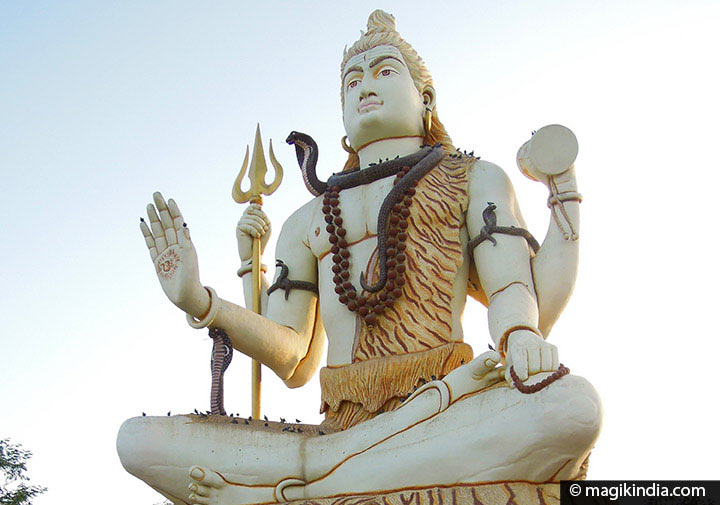 Nageshwar Temple, 12 miles to the northeast of the holy town of Dwarka, houses the "lord of cobras", one of the 12 Jyotir Lingams or "lingams of light". The temple is way out in the countryside but can be seen from afar, particularly the huge 82-foot Shiva statue that watches over it…
KNOW MORE ABOUT IT
---
13 – Somnath
---

The temple at Somnath houses the "Lord of the moon", foremost of the twelve Jyotir Lingams or "lingams of light". Somnath lies on the Gujarat coast at Veraval and attracts millions of pilgrims every year…
KNOW MORE ABOUT IT
---
14 – Siddhpur
---
Siddhpur "the pious" is a surprising town, on the banks of the Saraswati river. Its sacred atmosphere is rather reminiscent of Varanasi while the mansions of the Bohra merchants immerse you in the totally different atmosphere of Victorian era…
KNOW MORE ABOUT IT
---
15 – Mahuva
---

Mahuva is a small town by the Gulf of Khambhat, 95km from Bhavnagar. It is appreciated for its mild climate and lush vegetation in an otherwise semi-arid region. It's off the beaten track and the perfect place for those is quest of intriguing little temples, unspoilt countryside and traditional rural life…
KNOW MORE ABOUT IT
---
16 – Ambaji
---

Ambaji, 185km from Ahmedabad, is a temple city that attracts millions of worshippers each year. Legend has it that the heart of God Shiva's consort Sati fell here. This makes it one of the 51 sacred Shakti Peethas and therefore a key pilgrimage centre…
KNOW MORE ABOUT IT
---
17 – Vadnagar
---

Vadnagar was once home to the celebrated sage Yagyavalkya, "knower of the Vedas". Its rich history goes back over 4000 years, with some remarkable vestiges to tell the tale. The finest is the Hatkeshwar Mahadev temple…
KNOW MORE ABOUT IT
---
18 – Becharaji
---

Becharaji town is famous for its temple to Bahuchara Mata, goddess of fertility and patron saint of hijras (transgenders). It is also one of the highly revered Siddha Shakti Peethas, a place where Sati's hands are said to have fallen and a place where the sincere wishes of the faithful are fulfilled…
KNOW MORE ABOUT IT
---
19 – Mahudi
---

The temple to Shri Ghantakarna Mahavir, protector of the unfortunate, in Mahudi town, is considered one of the most holy Jain pilgrimage sites…
KNOW MORE ABOUT IT
---
20 – Bhavnagar
---

Bhavnagar, near the Gulf of Khambhat, is the fifth largest town in the State of Gujarat. Though mainly an industrial town it is a worthwhile stopping point on the way to Palitana or Mahuva…
KNOW MORE ABOUT IT
---